Scottish first minister Nicola Sturgeon has told British Prime Minister Theresa May that "Scotland's future must be Scotland's choice," stating that the will of the Scottish people "must and will prevail" at the SNP Spring Conference in Aberdeen on Saturday (18 March).
With Theresa May announcing that now was "not the time" for another referendum, Sturgeon promised a second vote will go ahead and urged her to "stop putting the interests of the right wing of your party ahead of the interests of our country".
Sturgeon admitted Scotland had initially accepted the result of Brexit but sought to remain in the single market.
With a hard Brexit now on the cards, the First Minister criticised May's lack of compromise and inflexibility and made a bleak prediction for exit negotiations "if she shows the same tin ear to other EU countries as she has to Scotland".
"While there's still an opportunity to change course, the people of Scotland will have a choice – there will be an independence referendum." She said.
MSPs will debate in Holyrood over calling for permission for a new vote on Tuesday and Wednesday, and Sturgeon urged Parliament to see that Scottish people determine their own future before the UK formally leaves the EU.
"Next week, in line with the mandate secured at last May's election, we will ask the Scottish Parliament to agree that the Scottish people should have the right to choose our own future but before it is too late to take a different path.
"If a majority in the Scottish Parliament endorses that position, the prime minister should be clear about this.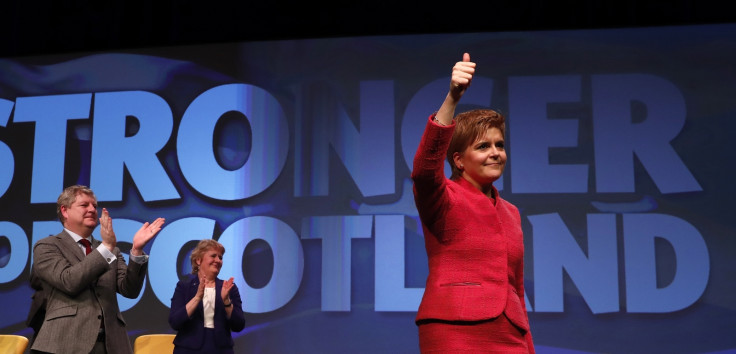 "At that point a fair, legal, agreed referendum – on a timescale that will allow the people of Scotland an informed choice – ceases to be just my proposal, or that of the SNP – it becomes the will of the democratically elected parliament of Scotland."
The First Minister has also encouraged those against Brexit to move to Scotland vowing that the country will become "a magnet for talent and investment from all across the UK".
In addition to her defiant plans for independence, she additionally announced funds of £36m ($44.64m) for digital skills and training and a new mental health strategy for NHS Scotland.