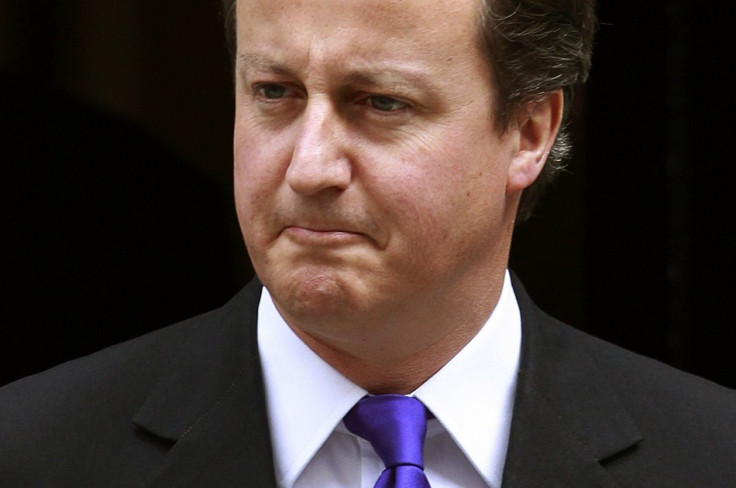 British Prime Minister David Cameron, accompanied by his foreign minister, paid a visit on Sept. 15 to Tripoli, the recently liberated capital of Libya. This was the first visit there by the head of government of a key European country since the deposition of former Libyan President Col. Moammar Gadhafi and his 42-year dictatorial reign.
In Tripoli, Cameron told reporters Great Britain had no selfish, strategic, or oil-related interest in what was happening in Libya. "We want to save lives," he said. He justified British and French forces spearheading NATO action against Gadhafi's regime by citing the United Nations resolution of 1973 authorizing "all necessary measures to protect civilians."
"Saving civilian lives" was also what French President Nikolas Sarkozy spoke about, as the two heads of state met with the top leadership of the Libyan National Transitional Council (NTC).
Crowds of Libyans, first at Tripoli and then at Benghazi, were warmly appreciative of the Cameron-Sarkozy visit and aid provided by their respective countries to Libyan freedom fighters. Cameron paid his tribute to the brave people of Libya who fought against the "dreadful dictatorship of Gadhafi." Both NTC Chairman Mustafa Jalil and interim Prime Minister Jabril thanked Great Britain and France for their timely intervention in the Libyan crisis and for their support to the revolutionary movement. Jalil also called for sustained armed action against areas still loyal to Gadhafi.
Cameron also met wounded soldiers at a military hospital, where he inquired about their well-being and asked if they were receiving all the treatment they required.
However, as some parts of southern Libya were yet to be liberated, Cameron felt Great Britain should "keep on with the NATO mission until all civilians are protected and this work is finalized." He went a step further and assured the Libyan revolutionary leadership his country would help them find Gadhafi and bring him to justice. This is a clear indication that Great Britain intends to see this campaign through to its completion.
In the course of this good-will mission, the British prime minister announced a relief and assistance package for the NTC with the following highlights: deployment of a military team to advise the NTC on security; return of Libyan assets worth 5,000 million pounds ($790 million) to the interim authority as soon as possible; provision of 50 beds at specialist hospitals in the U.K. for critically ill Libyans; provision of 600,000 pounds for de-mining efforts in Libya; and a further 60,000 pounds to pay for improved communications systems for local police forces. In addition, if the U.N. resolution to unfreeze Libyan assets goes through, the NTC will receive a further $12 billion from the UK alone.
Skeptics argue Cameron's outright support of the NTC cannot be without strings. The facts of the matter are that any country's foreign policy is determined by its national interests and that Britain's trade with Libya, during the Gadhafi regime, stood at 1.5 billion pounds last year; most of which was due to oil-related transactions.
"Libya embraces a peaceful democracy, and there will be no pols bounce for Cameron, no matter how often he postures with the ludicrous President Sarkozy. He should never have committed our overstretched Armed Forces to such a hazardous operation, at a cost of hundreds of millions of pounds. It was hypocritical, too," said Andrew Pierce, in an analysis published in the Mail Online.
Another commentator observed that the U.K. uses double standards in dealing with identical situations. Citing the example of Bahrain, it said that while Britain bombed Gadhafi's stronghold in Sirte for the crime of killing and oppressing his opponents, it unrolled the red carpet for the prince of Bahrain -- a country where the monarch is guilty of treating the Shia majority population better than the rest.
Great Britain entered into several commercial deals with the Gadhafi regime. Therefore, it is only natural that the British government looks to take appropriate steps to ensure that the regime replacing Gadhafi honors prior deals and that the flow of trade between the two countries, including oil deals, is not interrupted. However, Great Britain's post-Gadhafi policy is to be evaluated on several points. For example, African black mercenaries fighting for Gadhafi in his war against nationalist and revolutionary forces cannot be allowed to carry on freely; a sentiment Cameron echoed when he ordered Nigeria to hand over all mercenaries who fought for Gadhafi but cut and ran for Nigeria when their situation worsened.
Cameron has taken a bold and courageous step forward by lending outright support to the revolutionaries in Libya who want a democratic government. The United Kingdom, like all other democratic countries, is supporting the democratic aspirations of people in other countries but Cameron's visit underscores the importance of other economic considerations as well.