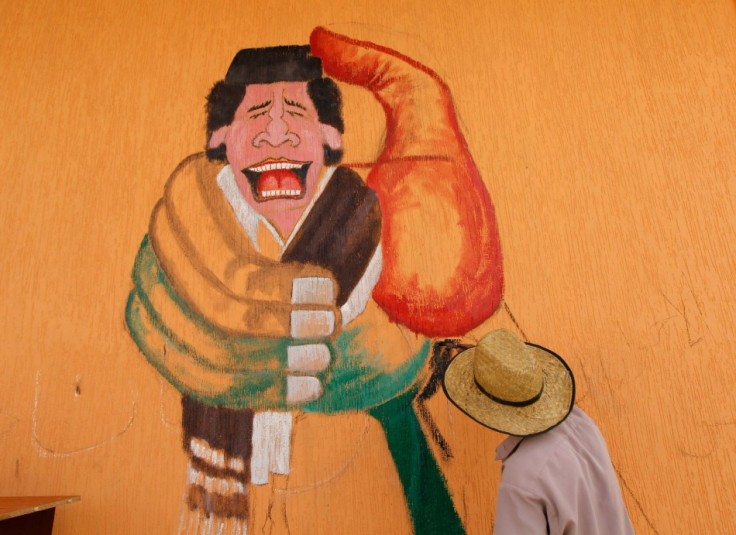 A Russian newspaper said on Tuesday that Libyan leader Muammar Gaddafi was willing to give up power in exchange for security guarantees, citing a high-level Russian official.
The report in the daily Kommersant, which did not identify its source, came a day after the search for ways to end the war in Libya dominated Russia's talks with NATO chief Anders Fogh Rasmussen and South African President Jacob Zuma.
"The colonel (Gaddafi) is sending signals that he is prepared to relinquish power in exchange for security guarantees," Kommersant quoted what it called a high-level source in the Russian leadership as saying.
The source said in the report that other nations, potentially including France, were willing to provide those guarantees.
The newspaper report also said the Libyan leader wanted his son Saif al-Islam to be permitted to run in elections if he steps down, a condition the rebels might not accept.
The Libyan government said on Monday that it was in talks with opposition figures, but Saif al-Islam told a French newspaper there was no question of negotiating an end to his father's 42-year rule, and the rebel National Transitional Council backtracked on its statement that Gaddafi could stay in Libya if he gave up all power.
Reports of the leader preparing to leave Libya have emerged in the media for the past five months and despite politicians also hinting at the possibility of Gaddafi stepping down, the colonel is still in power and for the self-proclaimed "pan-African" Russia or France seems an unlikely destination.
Just as the new allegations surrounding Gaddafi's departure surfaced, Libyan officials claimed they had intercepted two boats carrying a cache of weapons from Qatar, reportedly intended for rebels fighting forces loyal to Muammar Gaddafi.
On Monday, Moussa Ibrahim, a government spokesman, said 11 rebels were captured from the boats close to shore near the town of Janzour, just west of Tripoli.
"In the early hours of this morning around 4 o'clock our security forces intercepted the submission of many weapons from a ship that raises the Tunisian flag to two small Libyan boats with some Libyan rebels on board the boats," he said.
"I was told that this was the load of one major container, so this would be something like one out of ten or something like that," Ibrahim added.
Foreign reporters were later taken to Tripoli's port where they were shown a cache of rifles and ammunition displayed in a tent, but not the captured boats.
The weapons included about 100 Belgian-made FN assault rifles, as well as thousands of rounds of ammunition of the same calibre used in the guns.
Several of the ammunition boxes were marked in English as coming from the armed forces of Qatar, which has emerged as one of the main supporters of the rebels.