Libya Government Calls For International Help as Oil Tank Fire Rages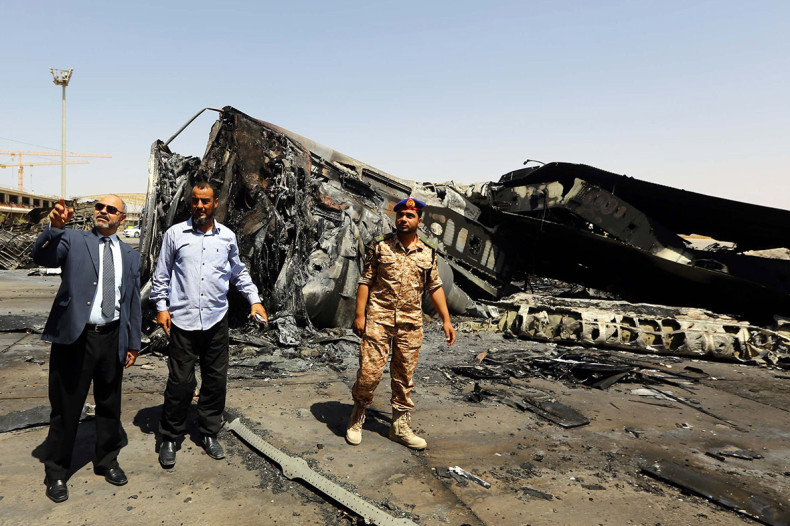 Libya's government has called for "international help" after a number of oil storage tanks caught fire amid clashes over the country's main airport in the capital Tripoli.
Libya's state-owned National Oil Corporation has warned of a possible environmental disaster after the fire broke out at an oil depot.
Firefighters were forces to abandon efforts to tackle the blaze in southern Tripoli on Monday, the NOC said.
"Firefighters have been trying for hours to put out the blaze but to no avail. Their water reserves finally ran out and they've had to leave," said NOC spokesman Mohamed al-Hariri, as quoted by AFP news agency.
The blaze started after an oil tank, which lies on the road that leads from the airport to Tripoli, was hit by a rocket, Hariri said.
"It is a tank of 6 million litres of gasoline and it is close to others containing gas and diesel," he said.
As the blaze erupted, the oil and gas ministry warned locals within three miles of the depot to evacuate for their own safety.
The fire is the latest crisis for the oil-rich state. Governments have struggled to impose authority since the 2011 rebellion saw long-term leader Muammar Qaddafi ousted.
Rival militias have fought increasingly fierce battles to establish independent power bases across the country. Clashes at the country's main airport have brought flights to a standstill since they started in mid-July.