US Special Forces have landed at Wattayah airbase west of Tripoli and have been pictured loading weapons and equipment onto all-terrain vehicles.
Photos of the elite soldiers, carrying weapons and dressed in civilian clothing, have been shared widely on social media. The Libyan Air Force, aligned with the country's government in Beida and which operates Wattayah airbase, has confirmed the arrival of the US soldiers, saying their presence was not coordinated with Libyan command.
In a statement the Libyan Air Force said the soldiers arrived at 6am on Monday 14 December on a US military aircraft carrying bulletproof jackets, night-vision goggles and silenced assault rifles. It speculated the arrival may have been organised by militias on the ground at Wattayah.
While the objective of the US Special Forces is unknown, US officials have stated that elite troops have been deployed in Iraq and Syria to take out the command structure of the Islamic State (Isis). Their deployment in Libya may be an extension of that mission in the militant group's largest overseas province.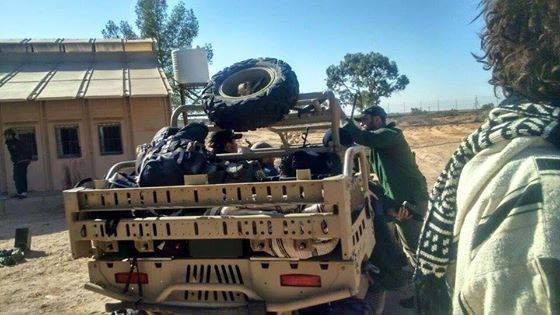 The Pentagon has confirmed the death of Islamic State leader Abu Nabil in Libya in US air strikes. "Nabil's death will degrade Isis' ability to meet the group's objectives in Libya, including recruiting new Isis members, establishing bases in Libya, and planning external attacks on the United States," Pentagon spokesman Peter Cook said at the time.
The United States and its allies have become increasingly concerned about the presence of IS (Daesh) in Sirte, a former Gaddafi heartland. Speaking at an international conference in Rome on Libya, US Secretary of State John Kerry urged the formation of a Unity Government in Libya to fill the political vacuum in Libya, in which Daesh has flourished.
Claims in the British and Italian press that up to 1,000 British troops could be deployed to Libya in the short term have been denied by the Ministry of Defence.
"The UK, along with international partners, is supporting the process to form a recognised Libyan government and we are developing plans to support once this is done. No decisions have been made about the future deployment of any British military forces to Libya as part of an international coalition force," a spokesman told IBTimes UK.
The Pentagon was not immediately available for comment on this article.
Note: This article was amended on 18 December to remove reference to the movements of US special forces after they landed at Wattayah. The date of their arrival was corrected from 17 December to 14 December.