Boys have taken the option to wear skirts into school today in western France in a stand against sexism and inequality - despite widespread protests from anti-gay marriage groups.
Some 27 lycées in the city of Nantes signed up to the move; "Lift the Skirt" (Ce que souleve la jupe), an idea initiated by pupils, which was allowed by the authorities and sanctioned by the Ministry of Education.
Those however who preferred not to bare their legs chose to wear a sticker instead which read: "I am fighting against sexism, are you?"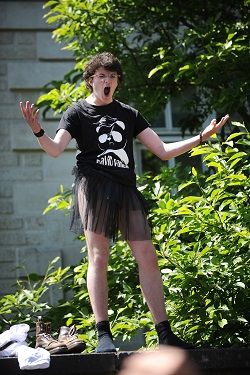 But on Thursdsay, fifty members of the anti-gay "Manif pour Tous" movement protested outside the Lycée Clémenceau school in the city of Nantes. They were greeted by one hundred students and left-wing campaigners, who chanted back "no fascists in schools" and "equality", according to reports from France 24.
The anti-sexism initiative by the schools has provoked a a reaction via social media and other conservative groups.
Frigid Barjot, the former leader of the movement questioned the country's education minister via Twitter: "And the girls, will they be wearing beards as well?"
Olivier Vial, president of the conservative UNI party told The Local: "We'll do any old nonsense in the name of equality. But this is just denying feminine and masculine identity."
Another anti-gay marriage militant Tugdual Derville tweeted: "It's not April Fool's Day. It's not a wind up. In our schools, with our expensive taxes: confusion of genders."
But Elisabeth Costagliola, head of the parents' organisation PEEP said there was no negative response when school chiefs organized a similar event last year without any controversy.
"On the contrary, it was really positive with students saying that even some male teachers were prepared to come to school in a skirt," Costagliola said.
The issue of gender in school has become an ideological sore point in France in recent months, following the introduction of a new gender equality curriculum earlier this year. Extremists even organised a boycott of schools after spreading a hoax among parents that teachers were going to give masturbation classes to young pupils.