Lily Allen Blames Label for 'Rubbish' Sheezus Album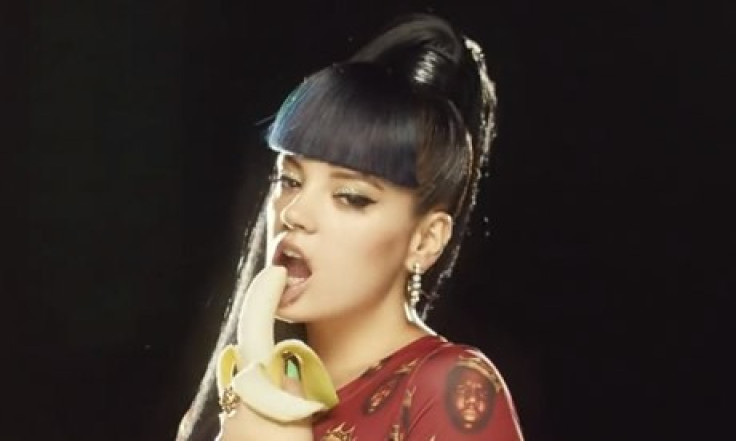 Lily Allen has admitted that her new music is "rubbish" in a surprising revelation on Twitter.
The 28-year-old singer made the candid confession after a fan slammed her latest album as "disappointing" and not up to par with her previous material.
Rather than defend Sheezus, which is scheduled for release this summer, the singer sided with the disgruntled fan and blamed her label and radio stations for the LP's lukewarm reception.
The mother-of-two claimed that Warner held back her best material from the final album and radio stations also refused to give the more impressive tracks air-time.
Allen made her comeback in November with Hard Out Here, a track that takes a stand against sexism and misogyny in the music industry by spoofing modern pop culture.
She has since released Air Balloon, L8 CMM' and Our Time from the Sheezus, which is her third studio album.
But despite her highly-anticipated return to music, the star's latest offerings have failed to win over fans or climb the charts.
She recently found herself at the centre of a race row after some bloggers criticised her for using only black and Asian scantily-clad dancers in her Hard Out Here video.
"I don't like racism. Even tongue-in-cheek, hand-on-slapped-black-buttocks racism. In the video she walks away from her twerking dancers. She remains in charge. They don't," Guardian writer Suzanne Moore said.
In the wake of the backlash Allen defended the promo as a "lighthearted satirical video that deals with objectification of women within modern pop culture".
"I'm not going to apologise because I think that would imply that I'm guilty of something, but I promise you this, in no way do I feel superior to anyone, except paedophiles, rapists, murderers etc," she said in a post titled: Privilege, Superiority and Misconceptions.
She added: "I would not only be surprised but deeply saddened if I thought anyone came away from that video feeling taken advantage of or compromised in any way."
© Copyright IBTimes 2023. All rights reserved.