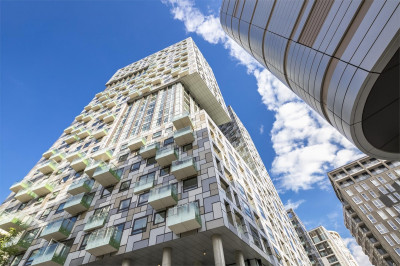 The new Lincoln Plaza block of apartments in London's South Quay in Docklands is "a putrid, pugilistic horror show that should never have been built" that "exhibits the absolute worst in shambolic architectural design and cheap visual gimmickry".
Not only that, but it is "the architectural embodiment of sea sickness, waves of nausea frozen in sheaths of glass and coloured aluminium that, when stared at for too long, summon queasiness, discomfort and, if you're really unlucky, a reappearance of lunch as inevitably as puddles after a rainstorm."
At least, that's the crushing verdict of Ike Ijeh, an architectural critic for Building Design magazine and judge in the Carbuncle Cup, a not-much-coveted annual award for the worst-designed buildings. And the Lincoln Plaza, designed by BUJ Architects for the developer Galliard Homes, is this year's winner.
"Soaring up to the 31st floor, Lincoln Plaza comprises two principal apartment towers – Franklin and Greenwich – together with a 12-storey international brand name 100-suite hotel which integrates with the two towers, allowing residents access to a fabulous array of lifestyle facilities," says Galliard's website.
"Adjacent is a 10 level 'rotunda' apartment building complimenting this striking new landmark against Canary Wharf's dazzling architecture."
Prices started in the development at £299,000 but the blocks are "almost sold out", with only a handful of three bedroom flats left, starting at £795,000. A spokesman for Galliard said that "architectural design is art, and like all art, a matter of personal tastes. Each project the company delivers is bespoke and distinctive and the company has built a strong reputation for rapidly selling out."
There were six contenders for the prize, including Lincoln Plaza. The others were Saffron Square in Croydon, The Diamond at the University of Sheffield, One Smithfield in Stoke on Trent, an extension to Poole Methodist Church, and 5 Broadgate in the City of London.
It is the fifth year running that a building in London has won the prize. In 2015, the winner was the Walkie Talkie tower, or 20 Fenchurch, in the City of London.