It is a dreaded literary prize from which it seems not even the most highly regarded author is safe, but Tuesday night will see another writer's ego punctured with the dubious honour of the Literary Review's Bad Sex in Fiction award.
Critically acclaimed authors with an extensive back catalogue can still find themselves chosen by the judges for the award, given to the book with the year's most excruciating erotic scenes.
Franz Kafka Award winner Murakami's 1Q84, which saw its first print-run sell out on the day of its release, made the list alongside genre fiction such as horror icon Stephen King's 11.22.63. Sebastian Barry, James Frey, Peter Nadas, David Guterson, Jean M Auel, Lee Child, Christos Tsiolkas, Dori Ostermiller, Simon Van Booy and Chris Adrian are also nominated.
"No-one is safe from our beady eyes," said Literary Review senior editor Jonathan Beckman."Obviously this is not an award that publishers are particularly keen to put their authors forward for, so we have to work over the year, speak to our reviewers, and slowly but surely pull a list together.
"Most authors take it in good humour. There is an inherent humour to the award and most are quite magnanimous and are even surprisingly enthusiastic.
"We have had some bad reactions. Sebastian Faulks didn't see the funny side of things when he was nominated for Charlotte Grey, so in the end the runner up, Alan Titchmarsh, had to collect it."
The award presentation will take place at London's Naval and Military Club, known as the In and Out club.
Last year saw Rowan Somerville take the prize with The Shape of Her, which included paragraphs such as: "The wet friction of her, tight around him, the sight of her open, stretched around him, the cleft of her body, it tore a climax out of him with a final lunge. Like a lepidopterist mounting a tough-skinned insect with a too blunt pin he screwed himself into her."
That year even saw former Prime Minister Tony Blair make the list for a passage about a night with his wife Cherie after finding out about former Labour leader John Smith's death.
"That night she cradled me in her arms and soothed me; told me what I needed to be told; strengthened me. On that night of 12 May 1994, I needed that love Cherie gave me, selfishly. I devoured it to give me strength. I was an animal following my instinct."
Food critic Giles Coren took the prize in 2005 with his debut novel Winkler, in which a man's genitalia is described as "leaping around like a shower dropped in an empty bath".
The shortlist in full: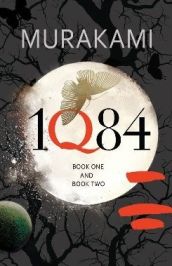 1Q84 by Haruki Murakami
"A freshly made ear and a freshly made vagina look very much alike, Tengo thought. both appeared to be turned outward, trying to listen closely to something - something like a distant bell."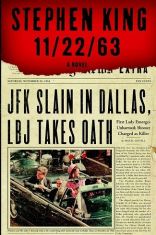 11.22.63 by Stephen King
"She opened her eyes and looked up at me with curiosity and hopefulness. "is it over or is there more?"
"A little more," I said. "I don't know how much. I haven't been with a woman in a long time."
It turned out there was quite a bit more...At the end she began to gasp. "Oh dear, oh my dear, oh my dear dear God, oh sugar!"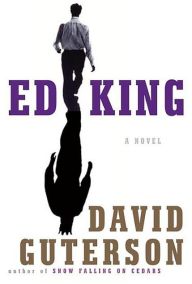 Ed King by David Guterson
"In the shower, Ed stood with his hands at the back of his head, like someone just arrested, while she abused him with a bar of soap. After a while he shut his eyes, and Diane, wielding her fingernails now and starting at his face, helped him out with two practiced hands, one squeezing the family jewels, the other vigorous with the soap-and-warm-water treatment. It didn't take long for the beautiful and perfect Ed King to ejaculate for the fifth time in twelve hours, while looking like Roman public-bath statuary. Then they rinsed, dried, dressed, and went to an expensive restaurant for lunch."
Parallel Stories by Péter Nádas
"If he did not want to slip out of her, he had to get on his knees between her spread thighs.
And if they hit gracefully on this exceedingly advantageous position, then finding it must have been the more important task.
Now he could not slip out of her.
No reason to worry about that: he was deep inside her."
On Canaan's Side by Sebastian Barry
"We were lying side by side one Sunday morning and with one accord, without real thought, with the simple instinct of ordinary human creatures, we turned to each other and gently kissed, then fiercely, like wakening beasts, and before we knew where we were, like a sudden walking storm down the lake that we had witnessed in the deeper weather, we seemed to go out into a stormy gear, we clutched at each other, we got rid of our damned clothes, and clung, and he was in me then, and we were happy, happy, young, in that room by the water, and the poetry that is available to anyone was available to us at last, and we breathed each other in, and in those moments both knew we would marry each other after all, and not a word needed to be spoken about it."
The Final testament of the Holy Bible by James Frey
"God built up inside of me. And the more he moved, the more it built. And his breath felt hot and smelled sweet. And he kept moving, real slow, and moving real deep inside, and it built until I saw it and felt it. It was love, and joy, and pleasure, and every part of my body sang some song I had never heard but was the prettiest, most beautiful song ever, and it was blinding and pure and my brain went the whitest white ever, and I saw infinity, forever and ever, I saw infinity, and even understood it, and understood everything else in the world, all the hate and rage and death and passion and jealousy and murder, and none of them even mattered.
The Land of Painted caves by Jean M Auel
"He reached for her hungrily, kissing her mouth and her neck and then her body with starved ardour. She was equally hungry, equally ardent, and reached for his body in almost desperate need. He kissed her again, slowly, felt the inside of her mouth with his tongue, then her neck, and reached for her breast with his hand then took the nipple into his mouth. She felt delicious jolts of pleasure race through her. It had been a long time since they had taken time to explore the Mother's Gift of Pleasure."
The Affair by Lee Child
"The room began to shake.
Just faintly at first, like a mild constant tremor, like the edge of a far distant earthquake. The French door trembled in its frame. A glass rattled on the bathroom shelf. The floor quivered. The hall door creaked and shuttered. My shoes hopped and moved. The bedhead hammered against the wall. The floor shook hard. The walls boomed. Coins in my abandoned pocket tinkled. The bed shook and bounced and walked tiny fractions across the moving floor.
Then the midnight train was gone, and so were we."
Dead Europe by Christos Tsiolkas
"I sensed her embarrassment, but even more I sensed the sweet, rich blood that was flowing out of her. It's okay, I whispered ... I was immersed in the slush of her moist meat ... Her body stiffened but I forced her legs apart and pushed my face into her groin."
Outside the Ordinary World by Dori Ostermiller
"The tears come later, my back pressed to his unfamiliar chest, his heart beating my spine. Outside, leaf shadows twist and fall like embers. He's whispering something into my hair and I'm listening but not, noting instead the inner geography- landmasses have altered. The planets have come unmoored, just like in the Last Days. They will surely fall.
Or maybe nothing has changed."
Everything Beautiful Began After by Simon Van Booy
"She dug her nails fiercely into his shoulders and bit him hard. He didn't flinch but slowed, suspending himself above her, strands of muscle in his shoulders like strings. She swirled in the currents below her life, where her sense of self was revealed as arbitrary, extraneous - so easily washed away by the force of a singular intent."
The Great Night by Chris Adrian
"He came and came and came and fell backward, as if through a mile of air or a lifetime, to land on the soft grass with a noise like his name, feeling like he was saying his name properly for the first time because for the first time he knew who he was and what he was all about and what he really wanted, which was precisely this. "