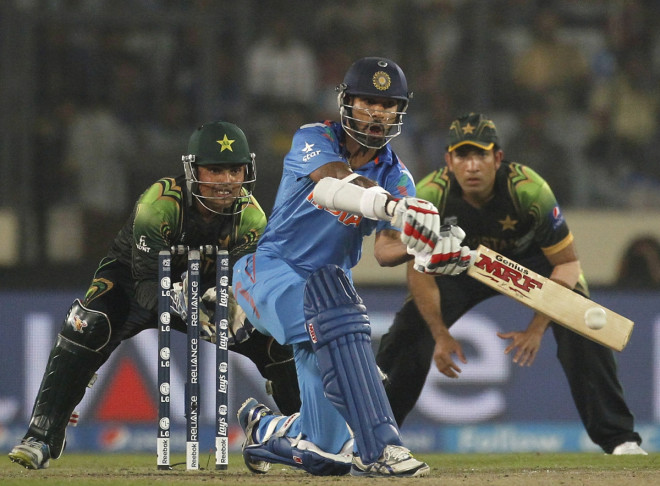 16:45: So perhaps a damp start to the tournament but we have several weeks of entainment ahead in Bangladesh. England get their campaign under way tomorrow against New Zealand on Saturday. We'll have full coverage of their attempts to regain the trophy across the next few weeks. That's all we've got time for on this live text. Until next time, goodbye.

16:39: Two groups of five in the T20 World Cup, with the top two reaching the semi-final stage. India get off to the perfect start and they could be a real force in this competition. Fancy chasing sides will dominate in this tournament.

16:37: Man of the Match Amit Mishra: ""I did some hard work, I'm very happy we won this match. I'm always thinking of going for wickets, and building up pressure. MS gave me a lot of support today, the sort of support you need as a bowler."

16:36: India far too good with the ball and once they were set only 131 to win by Pakistan there was only one winner. Kohli and Raina put on 66 for the fourth wicket, with 36 and 35 respectedly. A fourth win for India in T20 World Cup clashes against Pakistan. They turn up when it matters and they look unstoppable.

Over 20: Raina hits Gul for six to draw the scores level and clips one off his pads for four to help India home with nine balls to spare. Pakistan woeful in all honesty.

India beat Pakistan by seven wickets

Over 18: India 124 for 3: Pakistan need to stem the flow of runs now and make the worst possible start to those attempts, with Raina finding the boundary with another miss-hit pull. Kohli then flicks the ball away for his fourth four. Start the car.....

Over 17: India 115 for 3: 17 needed from 24 balls and Ajmal comes on for his final over. Raina takes no risk with plenty of time to win the game, taking just a single from the over. Carnage to come.

Over 16: India 114 for 3: Gul hasn't posed a threat since his opening over and India are happy to run the singles with Pakistan forced to defend. Eight runs from the over without taking a single risk.

Over 15: India 106 for 3: Beautifully struck four from Kohli as Afridi comes back on and a second puts India within touching distance. That one-sided contest I talked about? We're having one now. Partnerhsip worth 40.

Over 14: India 94 for 3: Just three comes from Ajmal's third over. Just seeing him are India before pace returns.
Over 13: India 91 for 3: Raina uses his second life to deadly affect, pulling Bhatti for four before chipping over the in-field for another. Just 40 required from 42 balls.

Over 12: India 81 for 3: Three good balls from Hafeez before Kohli cuts loose with a huge six into the stands. He holds the key for both sides in this game. Raina on strike for the last ball and Afridi puts down an edge at slip. Need to hold those.

Over 11: India 72 for 3: Bhatti first up and it's a cracker which smashes off-stump out of the ground. Superb bowling. India have dipped under the required rate but they're back on track as Raina goes through point with a four. Perfect timing.

Wicket: India 65 for 3: Yuvraj Singh b Bilawal Bhatti 1

Over 10: India 65 for 2: Lifeline for Pakistan? Sharma plays on to Ajmal and he's fuming as he stomps off the field. Vuvraj is in next but Ajmal's doosras are fended away.

Wicket: India 64 for 2: Sharma b Saeed Ajmal 24

Over 9: India 63 for 1: Crucial that Pakistan get Virat Kohli early to stand any chance. Afridi giving away runs with four wides from the over. Makes India's job so easy and the penultimate ball of the over goes for four from Kohli.

Over 8: India 54 for 1: Rohit Sharma, formerly No-hit Sharma, slaps Gul over mid-wicket for six and India are going to get home with time to spare. A two through third man brings up the 50 partnership between Sharma and Dhawan. The latter plunders a four down the ground before holing out to Ajmal on the boundary.

Wicket: India 54 for 1: Dhawan c Saeed Ajmal b Umar Gul 30
Over 7: India 41 for 0: Now Afridi to produce some magic? Only wickets will do at this stage. Low key over which goes for just three.

Over 6: India 38 for 0: 100 to win for India and Umar Gul is into the attack for some crisis management. Dhawan is in a bit of trouble, twice avoiding being bowled before slapping one out towards the deep for two. Sohalib Maqsood now recieving treatment after the ball bounces in a delicate area. Dhawan returns to power away the next ball through fine leg.

Over 5: India 31 for 0: Here is Saeed Ajmal. Big moment in this match. Dhawan totally perplexed from the first two deliveries but two sweep for four and a pull down the ground calms the nerves. Problems now for Hafeez.

Over 4: India 19 for 0: India put their foot on the gas. Rohit goes 4-6 off Khan and suddenly the pressure is back on Pakistan. If India can manage Pakistan's spinners and punish pace this game could be over in a flash.

Over 3: India 7 for 0: More evidence of bounce and turn, which will entice Ajmal. Another good over from the captain Hafeez, with just two from it.

Over 2: India 5 for 0: Junaid Khan comes in with immediate pace and a packed on-side and two slips. India starting very conservatively but they have time to do so. Pakistan think they have an early break-through with a run-out but Dhawan makes his ground.

Over 1: India 3 for 0: It's on. Huge appeal from the second ball for lbw against Dhawan. Call is dismissed but Hafeez not allowing any room for the Indian openers early on.

15:08: India's openers Dhawan and Sharma are out there and we're ready to go in Dhaka. Hafeez has the ball. Here we go...
15:03: Here's the mid-innings report from Dhaka as Pakistan set India 131 to win.

14:52: India need 131 to win the opening T20 World Cup Super 10 match against Pakistan. Wickets came at regular intervals and only a late cameo from Maqsood prevented this match from complete one-sided contest. India massive favourites at this stage with that batting line up.

Over 20: Pakistan 129 for 6: Much required from Maqsood now and he begins well, sending Shami for a half-hit six down the ground. Maqsood gets back for a two the next ball and finds the boundary again with another straight hit. A run out on the final ball defines Pakistan's troubles. The average first innings total on this ground is 147. fair to say Pakistan have work to do.

Wicket: Pakistan 130 for 7: Sohaib Maqsood run out 21

Over 19: Pakistan 115 for 6: The terrible music continues and Kumar comes back too. Afridi gets his first boundary with a horrid hit four and another single puts Maqsood back on strike. A four down the ground from the 26 year old is much needed but now Afridi is gone as Raina takes his third catch of the innings.

Wicket: Pakistan 114 for 6: Afridi c Raina b Kumar 8
Over 18: Pakistan 104 for 5: A leading edge from Akmal and Raina makes no mistake with the simple catch in the deep. Afridi needs to produce some brilliance to make this competitive.

Wicket: Pakistan 103 for 5: Umar Akmal c Raina b Mohammed Shami 33

Over 17: Pakistan 102 for 4: Amit Mishra is bowled out and his 2 for 22 could prove pivotal by the end of the evening. Jadeja continues India's resurgence with two from the 17th over. A sub-standard target in the offing here.

Over 16: Pakistan 100 for 4: Malik's miss-hit sails into Indian hands off Mishra and Afridi is in. His innings crucial for Pakistan now. Akmal remains on 32.

Wicket: Pakistan 97 for 4: Shoaib Malik c Raina b Mishra 18

Over 15: Pakistan 96 for 3: This partnership is now worth 49 and there is another India mistake in the field. Malik doesn't get hold of a heave over mid-wicket but Kumar can't get his hands to it, and the ball rolls for four.

Over 14: Pakistan 89 for 3: It's all about rotating the striker and rotating the field from Pakistan now as they try to keep wickets in hand for the iminent arrival of Afridi. Jadeja lets one slip for a wide which almost leads to a run-out but Pakistan remain three down.

Over 13: Pakistan 83 for 3: Ashwin back to restore some order in this innings. Just seven from it as Akmal moves on to 23 from 16 balls.

Over 12: Pakistan 76 for 3: First six of this tournament proper. Shoaib Malik down the ground and hits it high and over the boundary. Pressure has relincquished from India here.

Over 11: Pakistan 62 for 3:Vuvraj Singh into the attack and the runs start to come for Pakistan. Umar Akmal scores two fours, the first via a miss-field and the second with an inside out drive through cover.

Over 10: Pakistan 50 for 3: Jadeja getting from proper turn here and Pakistan aren't really reading it. That's 10 overs gone and they're someway short of a par score at this stage.

Over 9: Pakistan 47 for 3: This variation is doing for India here. Mishra back and takes a wicket with his second ball, drifting and turning the it away from Shehzad with a beauty. Dhoni does the rest. Pakistan in trouble after Mishra's wicket maiden.

Wicket: Pakistan 47 for 3: Ahmed Shehzad stumped Dhoni b Mishra 22

Over 8: Pakistan 47 for 2: Jadeja into the attack and immediate success. One that just turns a bit see Hafeez ballons the ball square of the wicket and Kumar takes a simple catch.

Wicket: Pakistan 44 for 2: Mohammad Hafeez c Kumar b Jadeja 15
Over 7: Pakistan 34 for 1: Amid Mishra comes into the attack. How vital might he become in this World Cup with the dew factor? Just six from his opening over of the tournament after a well-run two from the final ball of the over.

Over 6: Pakistan 34 for 1: Totally miss-timed hook from Hafeez but Vyvraj spills the catch. Always falling short that one. The very next ball Shehzad advances and hits one-handed for four. Shami facing a bit of adversity from the other end as more comes via a lovely clip through mid-wicket from Hafeez before a pull for two.

Over 5: Pakistan 21 for 1: Hardly a wiz bang start from Pakistan this. Nice flick from Hafeez for two but India are on top at this stage.
Over 4: Pakistan 17 for 1: Mohammed Shami into the attack and a bit of pace on the ball at last but Pakistan are still struggling to get the ball away. Just two from the over.

Over 3: Pakistan 15 for 1: Ashwin back for a second over and India remain on top in Dhaka. Hafeez can't get the spinner away until Shehzad hits down the ground and just out of reach of an Indian fielder.

Over 2: Pakistan 9 for 1: What a mess from Pakistan after a decent start. Akmal cuts Kumar through the covers for four but the very next ball Shehzad and Akmal get in all sorts of problems both half-way down the wicket and Kumar takes full advantage, running out the Pakistan opener.

Wicket: Pakistan 9 for 1 Kamran Akmal run out 8

13:33: Worth mentioning that before play began, the players were involved in a horrid looking countdown on the big screen. Now we have Jon Bon Jovi between overs. Awfully cliched.

Over 1: Pakistan 4 for 0: Good start from Ashwin and some early signs this wicket has some bounce and Akmal takes full advnatage from the third delivery, hooking the ball for four over deep fine leg.

13:29: So Kamran Akmal will open the Pakistan innings against Ashwin. Very attacking move from India.

13:26: Somewhat humerous that during the Pakistan anthem, which is a tribute to the country, is cut short when fans see Shahid Afridi on the big screen.

13:24: Both teams are out for the pre-game preliminaries which include the national anthems. This is where the World Cup really gets going, despite the excitement of the first group phase. We're underway in the next five minutes.

13:16: Looking at both teams it's hard to ignore the fulcrum of India's batting line-up. Pakistan have Ajmal and Gul of course and how they get on against the Indian bowlers where Ashwin's influence will be critical will hold the destiny to this match.

13:09: Teams:

India: Sharma, Dhawan, Raina, Vuvraj Singh, Kohli, Dhoni, Ashwin, Jadeja, Mishra, Kumar, Mohammed Shami

Pakistan: Ahmed Shehzad, Kamran Akmal, Mohammad Hafeez, Umar Akmal, Shoaib Malik, Sohalib Maqsood, Shahid Afridi, Bilawal Bhatti, Umar Gul, Saeed Ajmal, Junaid Khan

13:06: Three spinners for India and clearly MS Dhoni is concerned by dew on the ball later on in the game. Both captains, Dhoni and Mohammad Hafeez think it's a good pitch even if it might be on the slow side. Before we look at both teams worth noting that Kamran Akmal and Ahmed Shehzad will open for Pakistan. Teams on the way.

India win the toss and will bowl

12:54: Australia might be the bookmakers' favourites to take the title in Bangladesh, but let us not forget this is the world No.2 against the world No.3 in the T20 rankings. India have prevailed in each of the pair's three previous meetings in the World Cup including in a five-run win in the final in 2007. Shahid Afridi's two sixes in the final over in the meeting last month which inspired Pakistan to victory might prove signficant however. Either way, you know what to expect.

12:50: Despite the fireworks we often get from these two, they will be hard pressed to match what we've just seen from Netherlands and Ireland, with the former smashing through to group stage proper with a mesmerising assault on 190 to win in 14.2 overs. Wesley Barresi's 40 from 22 balls helped them do it with three balls to spare
12:45: So after an entertaining, if not high-quality preliminary stage in the T20 World Cup, we come down to the real meat of the tournament. India and Pakistan have played out the fiercest rivalry in world cricket since 1952 and today marks another chapter in the most epic of sporting contests. Strap firmly in. We're off in Dhaka in 45 minutes.
Pakistan 47 for 3:
Over 12: Pakistan 76 for 3: