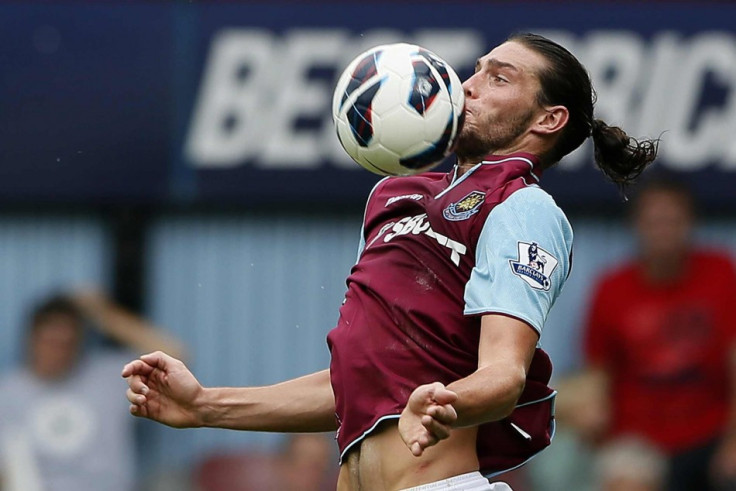 Brendan Rodgers says he's keeping a close eye on Andy Carroll's development at West Ham, though he hasn't yet considered if he'll ask the striker to return to Anfield in January.
Carroll had struggled to impress at Liverpool when Rodgers made the move to Merseyside at the start of the summer, and the manager was open about the fact that the England international didn't fit into his style of play.
A deadline day move to West Ham signaled that Liverpool may be bringing in another striker who was more suited to Rodgers, but no such deal took place, and with new signing Fabio Borini suffering an injury that will keep him out of action for three months, the club are looking particularly thin in their attacking line-up.
Carroll put in some promising performances for West Ham, but injuries have slowed down his progress, and though Rodgers isn't sure whether he'll bring the star back, he is planning to assess the situation closer to the transfer window.
"It isn't something I have considered, to be honest," he told Sky Sports when asked if he would ask to take Carroll back.
"Andy has obviously gone out to get games. We have people watching when he plays and they report back on how he is doing.
"But with Fabio's injury just coming up we will assess it from there."
Meanwhile, Luis Suarez now has a lot of pressure on his shoulders to deliver for Liverpool and has shrugged off controversy off the pitch to be a shining light in an otherwise lackluster squad.
And Rodgers hopes that with limited strikers available, Suarez will make use of the opportunity to lead Liverpool's attacking line, and produce the goals needed to get the side back into contention for the top four.
"I've rested him a couple of times knowing the squad we have and the games we have, looking to prioritise, but like most footballers he wants to play every minute of every game," he explained.
"It is something I need to assess. The most important thing is winning games - that is what we need to do and in order to do that as often as we can I need the best players on the field.
"Luis will absolutely love playing three times a week but I need to try to nurture him because there are still many games to play between now and January.
"And even in January if we bring someone in it may not be January 1, so that is something which, over time, I need to assess and we'll look to manage the squad."