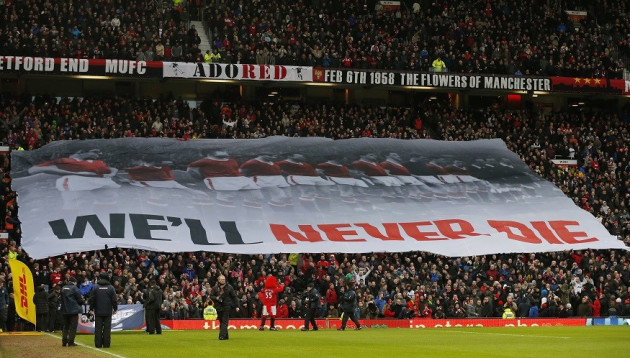 Liverpool FC has apologised after a tweet was sent from their official Twitter account which appeared to mock the 1958 Munich air crash which killed eight Manchester United players.
Ahead of their game on Sunday, the Liverpool FC Twitter account asked fans to tweet suggestions for a playlist to be played at Anfield when the players come out.
One user suggested Frank Sinatra's Come Fly With Me and Always Look on the Bright Side of Life by Eric idle. The song featured on Monty Python's Life of Brian has its lyrics changed to "always look on the runway for ice" by football supports when singing about the Munich disaster.
The person running the @LFC account replied to the tweet with: "Have you been sneaking a look at the dressing room iPod?" The tweet has since been deleted.
The club has now apologised for the "distasteful" tweet. A spokesperson said: "Liverpool Football Club responded quickly to correct the error of judgement that was made last night on its official Twitter account in responding to a distasteful and inappropriate Tweet. The Club took decisive action and the comment was deleted swiftly.
"We apologise, unreservedly, for any offence that was caused by this mistake."
A total of 23 people were killed in the 1958 Munich air crash when British European Airways Flight 609 crashed on its third attempt to take off from the icy runway at Munich-Riem Airport, including eight of the famous 'Busby babes' team.
At the time of the crash, the team managed by Matt Busby were attempting to become only the third club to win three successive English league titles.