Per Mertesacker and Mikel Arteta both booked for Arsenal.
Lukas Podolski puts Arsenal in front after 31 minutes with his first Premier League goal.
Stewart Downing and Jonjo Shelvy replace Fabio Borini and Nuri Sahin

Santi Cazorla scores his first Arsenal goal to double the lead after 69 minutes.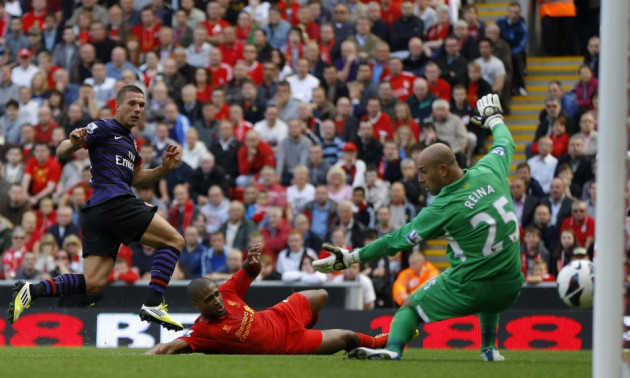 15:26: Defeat leaves Liverpool reflecting not only on their dreadful transfer deadline day dealings, but also their worst start to a season in the top flight for 50 years. Arsenal meanwhile, who were criticised for their shortcomings on deadline day, made the perfect repost, with new boys Lukas Podolski and Santi Cazorla both netting their first for the club as they claimed their first three points of the campaign.
Full time: Liverpool 0-2 Arsenal
15:20: Four minutes of added on time.
15:19: Liverpool starting to pose a threat but at the wrong time. Shelvy unleashing a stinging drive which Mannone is equal to. Vermaelen is replaced by Koscielny, who returns from injury. The change from the corner almost sees Johnson cut the deficit but Arsenal clear. Shelvy is booked for fouling Ramsey.
15:17: Easily Liverpool's best chance of the match as Gerrard and Suarez link up for the first time in the game, but the latter, under pressure from Vermaelen, who has been everywhere this afternoon, hinders the striker from testing Mannone.
15:15: Jonjo Shelvy tricks his way through, but Mannone, who has been rarely tested today, saves well. Gerrard and Suarez look to pounce on the loose ball but Vermaelen clears.
15:10: Liverpool finding it tough to break through an Arsenal side who are closing in on a third successive clean sheet. Giroud mistimes a header from an Arsenal corner. Five minutes left.
15:05: Alex Oxlade Chamberlain is replaced by Aaron Ramsey. It's alarming how few options Liverpool have to change the flow of this game. Sterling is seeing more of the ball immediately after the goal but Jenkinson has wised up to the winger's tricks.
14:59: That should kill the game. Santi Cazorla, again with too much space, exchanges passes with Lukas Podolski, and from the left hand-channel of the penalty area fires goalwards, with Reina deflecting the ball into the net from the tight angle. We spoke of the Spaniard's problems between the posts before the game, and that's a third mistake in a week. Meanwhile, a second Arsenal summer signing scores his first goal for the club at Anfield.
Goal: Liverpol 0-2 Arsenal (Santi Cazorla)
14:54: The Gunners under the cosh ever so slightly, but Cazorla gets free at the other end, again in behind Allen, and his shot fizzes wide. Sahin is replaced by Jonjo Shelvy.
14:53: Downing surges through, but Vermaelen steps in to block his effort on goal. The resulting corner causes confusion in the Arsenal penalty area, with Skrtel and Agger both forcing Mannone to flap at the ball. After Gerrard's cross is cleared, Sterling's cross finds Downing, but with the winger stretching, his header goes harmlessly wide.
14:50: Goodness me, the spirit of the Olympics lives on. Luis Suarez is clearly fouled by Vermaelen, but when the decision doesn't go Liverpool's way the striker produces play-acting out of the Laurence Olivier collection. Carl Jenkinson and Daniel Agger exchange long range efforts, which sting the hands of Reina and Mannone respectively.
14:46: Suarez, like an overzealous fast bowler, is appealing for everything and this time feels the hosts should have a penalty when Vermaelen falls on the ball after the two players come together. After two wasteful set pieces, Suarez forces Mannone into a decent save.
14:42: Kieran Gibbs nearly doubles Arsenal's lead. Again Diaby sets the away side on the attack, with Podolski teeing up the onrushing Gibbs who forces a smart save from Reina from a relatively tight angle. Stewart Downing replaces Fabio Borini, who has been extremely poor.
14:40: Liverpool finally get some joy in the final third. Gerrard has space and time to turn in the Arsenal box and play a teasing cross in towards Suarez, who goes to ground under pressure from Mertesacker. The German makes a clumsy challenge, but as ever, the former Ajax striker is happy to make the most of it. Six of one.
14:36: No doubt who has been winning the midfield battle today. Arteta and the roaming Diaby have been all over Allen and Sahin, the latter of whom has been very quiet on his Premier League bow. Martin Skrtel goes into the book.
14:34: We're off for the second half at Anfield. No changes for either side.
14:24: Liverpool have really lacked the industry to break through a rigid Arsenal back four. Lukas Podolski's first Premier League goal, during one of the few quality passages of play, separate the two sides but will Olivier Giroud live to regret his point-blank miss at the end of the half? Raheem Sterling has hit the post for The Reds, but cracks continue to appear in Brendan Rodgers' footballing philosophy. While Arsenal have worked to erase the memory of Robin van Persie, the near miss over Clint Dempsey is proving to be even more crucial for Liverpool.
Half time: Liverpool 0-1 Arsenal
14:15: Replays show Mertesacker, who was involved in the challenge with Sterling in the box, got studs to the ball. Good call from Howard Webb, not that it's entirely clear how he made the call. Into two minutes of stoppage time at Anfield.
14:12: End to end stuff now. Liverpool feel they should have penalty when Sterling is tackled from behind, while Suarez can't force it past Mannone. On the break, Arsenal really should make it two, as Diaby feeds Giroud, but the Frenchman can't wrap his foot round the ball as he finds the Kop instead of the back of Reina's net. Coming to the boil this one.
14:09: Liverpool reply, and it's from a routine cross field ball, which Borini recycles, Arsenal don't clear and after an exchange of passes with Steven Gerrard, the ball falls to Sterling who turns away from Jenkinson and strikes the outside of the post. The best chance the home side have mustered so far.
14:03: Robin van who? Gerrard gives the ball away inside the Arsenal half, and suddenly the visitors are away. Cazorla gets in behind Allen and Sahin, and finds Lukas Podolski, who finds the bottom left hand corner to score his and Arsenal's first Premier League goal of the season.
Goal: Liverpool 0-1 Arsenal (Lukas Podolski)
13:58: Arsenal are now guilty of giving the ball away in their own half, and it's Mertesacker to gives the ball away to Sterling who forced a foul out of Mikel Arteta, with the teenager honing in on goal. Steven Gerrard, who has been quiet for the most part, takes the free-kick from 25 yards, but it's blocked by a combination of Cazorla and Arteta. Arsenal can't make anything of the resulting counter.
13:53: As we saw in the first two games under Brendan Rodgers, Liverpool's players are struggling to adapt to the Northern Irishman's desire to see the ball passed out of defence, with balls regularly going astray. We saw goals come from errors at the back in both of the league games with West Brom and Manchester City, and the way they're going here you wouldn't bet against another.
13:50: Bit scrappy from both sides now. Liverpool can't get out of their own half, with Suarez twice the guilty party before Thomas Vermaelen strides forward but shoots well wide.
13:45: Carl Jenkinson gives away an unnecessary corner, and Liverpool should have taken advantage. Gerrard's set piece finds an unmarked Daniel Agger, but the centre back can't meet the header properly and Arsenal clear. The young full-back gives the ball away to Sterling during the next passage of play, but again the away side, who are yet to concede a goal this season, recover.
13:42: Arsenal looking the more likely in the early stages, and after Podolski's cross is only half cleared, the visitors go again, and Cazorla, who we know needs no invitation to shoot, hits from 20 yards straight at Reina.
13:38: First we've seen of Luis Suarez, who darts around Per Mertesacker, only for the big German defender to concede a free-kick and earn the first yellow card of the afternoon. The Uruguayan's free-kick is well over the top though and The Gunners breathe again.
13:36: Tense starts at Anfield with Arsenal dominating possession. Fabio Borini does find some space but shoots harmlessly wide. Liverpool need at least a point to avoid their worst start to the Premier League start, while Arsenal need to avoid defeat also to prevent from making their second worst start to a season in the Premier League.
13:30: About to get underway at Anfield. Quick point to mention, looking forward to seeing how two players who represent England's future, Raheem Sterling and Alex Oxlade-Chamberlain, get on today. Howard Webb starts us off.
13:28: Arsenal will be seeking to avoid a third successive goalless draw after failing to score against both Sunderland and Stoke City, with new recruits Olivier Giroud and Lukas Podolski, both of whom start at Anfield, yet to hit their straps to help erase the memory of van Persie's sale to Manchester United.
Like last season, Liverpool's progress is being undermined by problems in front of goal, despite their two goals against champions Manchester City last weekend. Furthermore, the form of the usually unflappable Pepe Reina came to a head during Thursday's Europa League tie, with a horrible error from the Spaniard putting The Reds' European season in jeopardy. Today's fixture will evoke memories of his own goal during the pair's fixture during the 2010/11 season.
13:20: As you'll see from the team news, Nuri Sahin makes his Premier League debut, in place of the injured Lucas Leiva, while Jose Enrique returns to left-back instead of Martin Kelly, with Glen Johnson moving to right-back.
Arsenal are unable to welcome back defender Laurent Koscielny to their first team, but name the Frenchman on the bench. Wojciech Szczesny again misses out with Vito Mannone continuing in goal.
13:15: After both Liverpool and Arsenal endured contrasting fortunes on transfer deadline day, both sides' attention turns to their problems on the pitch, which has seen no wins, and just two goals scored between the two of them.
Brendan Rodgers was determined to bring in some extra fire power during deadline day, but deals fell through for likes of Clint Dempsey, who moved to Tottenham Hotspur.
Arsenal were meanwhile conspicuous by their absence on deadline day, with Arsene Wenger, who conducted a lot of his transfer business during the start of the window, failing to add further to a squad which has lost both Robin van Persie and Alex Song.
Teams:
Liverpool: Reina, Johnson, Skrtel, Agger, Jose Enrique, Gerrard, Allen, Sahin, Borini, Suarez, Sterling.
Subs: Jones, Henderson, Coates, Downing, Carragher, Shelvey, Kelly.
Arsenal: Mannone, Jenkinson, Mertesacker, Vermaelen, Gibbs, Diaby, Arteta, Oxlade-Chamberlain, Cazorla, Podolski, Giroud.
Subs: Martinez, Koscielny, Andre Santos, Walcott, Ramsey, Coquelin, Gervinho.
Referee: Howard Webb