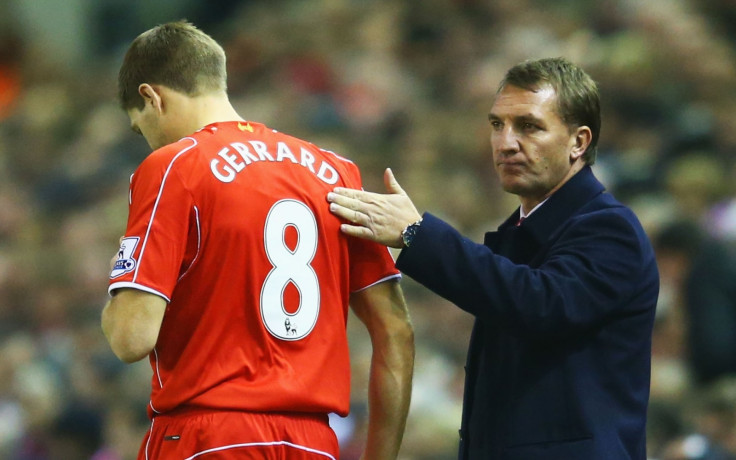 Liverpool manager Brendan Rodgers says Steven Gerrard will remain on the sidelines for the Europa League last 32 first leg against Besiktas on Thursday night 19 February.
Meanwhile the manager has urged once again to be cautious over Daniel Sturridge who, even though the striker has scored two goals since returning to action, is "still looking for fitness".
Gerrard suffered a hamstring injury during his side's last Premier League victory over Tottenham Hotspur on 10 February and has since been unable to play, missing the FA Cup win over Crystal Palace at the weekend.
Rodgers has now confirmed the captain will also miss the team's debut in the Europa League competition – following their elimination from the Champions League group stages.
"He won't have a chance for tomorrow and we just need to assess on a daily basis where Steven is at," the Liverpool manager said during the press conference ahead of the game.
Meanwhile, the manager admits that Sturridge is increasingly becoming a leader but insisted he is yet to reach his top form even though the former Chelsea star has impressed since returning to action and scoring in the Premier League victory over West Ham and the FA Cup win over Crystal Palace.
"He's been analysing his game, taking on a leadership role and has wonderful ability. He's top class but still looking for fitness."
Rodgers has also lamented Lazar Markovic's absence after Uefa handed the winger a four-match European suspension following his red card in December's Champions League clash against FC Basel.
"We accept the ban and unfortunately he will have to serve that. He obviously won't be able to contribute for these coming games," he said.
"But in the future he'll hopefully be able to play many more European games for the club."
The summer signing will miss both legs with Besiktas but also the next round should Liverpool beat the Turkish side and go through the last 16.