Fabio Borini has spoken of his admiration for manager Brendan Rodgers after taking part in his first training session with his new teammates on Tuesday.
The Italian striker was told that he did not need to join pre-season training until the start of August, but he was desperate to link up with the Liverpool players and made the decision to fly to Boston and start working with his new club.
Borini has previously worked under Rodgers when he was taken to Swansea on a loan-deal and he enjoyed plenty of success as he helped fire the club to promotion through the play-offs.
The 21-year-old was also at Chelsea while Rodgers was working as a youth team coach and he was quick to lavish praise on a manager he believes will be able to help the development of the players and take the club forward.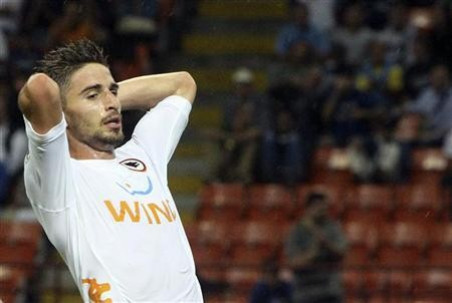 "As a manager he is great. He knows what he is going to do every single day, he is very organised," Borini told the clubs official website. "You can see at the training ground, he gets there early and he really wants to work and improve every day.
"I think he is the kind of manager players love to play for. I love to play for him. We are very close. When he was working at Swansea, he'd text after I scored twice, and I'd text when he achieved good results with Swansea, when he beat the big teams.
"It's a good relationship as a friend, as human beings, and then as a working relationship."
The arrival of Borini brought into question the future of Andy Carroll but it seems the Italy international can operate in several positions and is happy to even drop into midfield if necessary.
"I can play anywhere up front. I prefer central because I have more space and can make more movements, but I can play for any occasion, on the right or left," added Borini.
"That's good for me because I am not restricted. When I was at Swansea I played on the left wing as well."
Borini also admitted that it will be an emotional occasion when he makes his debut for the club having been informed of the rich history the club possesses.
"I will feel a little bit heavy inside because of the trophies and the past here, and because it's important," Borini said.
"I didn't know as much about the history as I do now because I am young, but as soon as I saw the Champions League trophy at the training ground that makes a big impression."