Brendan Rodgers has joined a growing chorus of support for Stewart Downing, the winger who has gone from strength to strength this season and proved he has what it takes to justify his place in the Liverpool squad.
Downing made the move to Liverpool in the summer of 2012 for £20 million, and whilst he was touted for big things, the England international failed to produce in his first season.
Rodgers had at one stage almost written Downing off, with the manager getting rid of a large group of players Kenny Dalglish and Damien Comolli had signed in his first months as manager.
But this season Downing has fought for his place in the side, and Rodgers couldn't be happier with the player he has become.
"I've been delighted with Stewart, he has come into the team and made the position his own," he said in the Liverpool Echo. "He has been absolutely outstanding.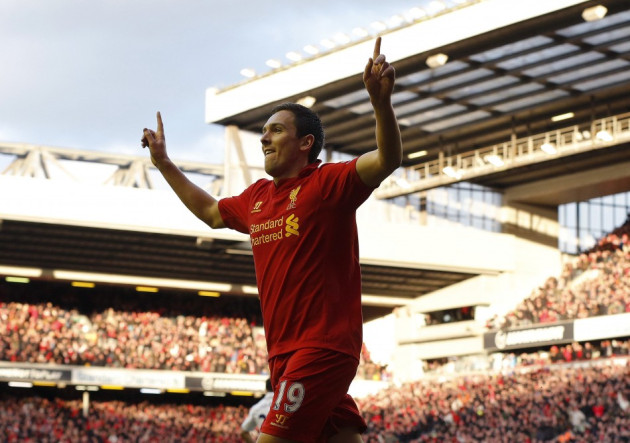 "There's no doubt about Stewart's qualities and what he's showing at the moment is that fighting spirit, doing all those things that we ask of every player in the team.
"It was a terrific goal at the weekend, how he read the game to press the centre-half and challenge the goalkeeper. It was a wonderful finish with his right foot.
"It showed his confidence level and how he's playing at the moment and we'll look to keep that going.
"If he continues this form, I'm very hopeful he'll play himself back into the England team."
Downing has been one of many positive points this season for Liverpool, who are on a high after defeating Champions League contenders Tottenham last weekend.
Whilst the Reds are still outside the top four, they are now mounting a serious challenge for the likes of Chelsea, Arsenal and Spurs, and Rodgers is keen to capitalise on the side's newfound confidence.
"We're very high on confidence - we're scoring goals and playing very well," he explained.
"But we can't get carried away; it has been a natural growth over the course of the season. It's a credit to the players and how hard they've been working.
"You've got to maintain that standard and that's what we're looking to do between now and the end of the season.
"You're playing for institutional pride here every game. It's not just about certain games - it's every game that you play.
"We've got targets to achieve and we're still very much fighting right the way through until the end of the season.
"This is a point of the season when, to be successful, you've got to narrow your focus and win games.
"We're winning games and performing well. If we can retain that focus, it should finish well for us and let's see where it takes us."