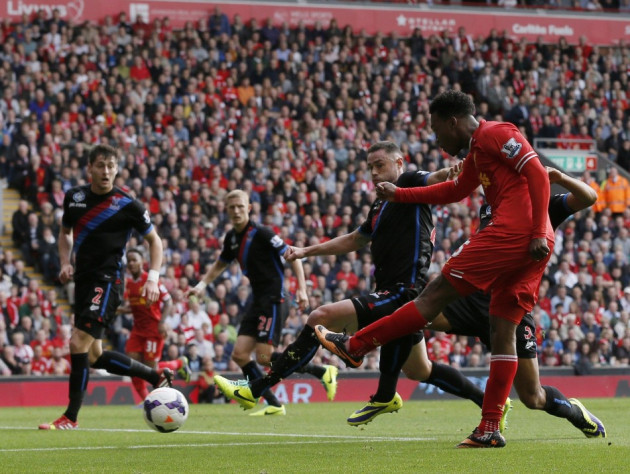 Liverpool striker Daniel Sturridge believes the club cannot afford to be content with finishing second or third in the Premier League.
The Reds have enjoyed a remarkable start to the season having won five of their opening seven Premier League games of the season to leave them second in the table, only edged out on goal difference by Arsenal.
At this point last season, Brendan Rodgers had endured a rotten start to life at Anfield having won just one game and lost three en route to finishing seventh with an enormous gap of 28 points separating the club and champions Manchester United.
Liverpool's target for the season is to finish in the top four and qualify for the Champions League for the first time since 2009. But after their rapid start and with their forwards options of Luis Suarez and Daniel Sturridge now widely regarded as the best partnership in the league, the England international believes the club can aspire to more than that.
"It's not intense, but there is a strong desire for success and everybody wants to help Liverpool get back to the winning ways that they had in the past and that's up to us," Sturridge was quoted as saying by Liverpool's official website.
"Everybody wants to have success. It's not about getting by and being content with second or third.
"It's about having a winning mentality and that is something the manager has instilled in us now, where everybody's got that feeling to want to win every game."
Sturridge's consistency in front of goal has been one of the defining factors in the club's impressive start. The former Manchester City and Chelsea striker struck four goals in the club's opening four games of the season in the absence of Suarez.
Upon the Uruguay international's return, the duo have picked up from where they left off last season, scoring five goals between them in the club's last two games. With Steven Gerrard and Victor Moses finding the openings for the pair to flourish, Sturridge says life is easier with such players around.
"It's easier when you've got somebody like Luis, who can help you share the goals out, and we've also got the likes of Steven Gerrard and Victor Moses who can pitch in," Sturridge added.
"So there are goals throughout the team. Hopefully we can continue with the form we've got at the moment."