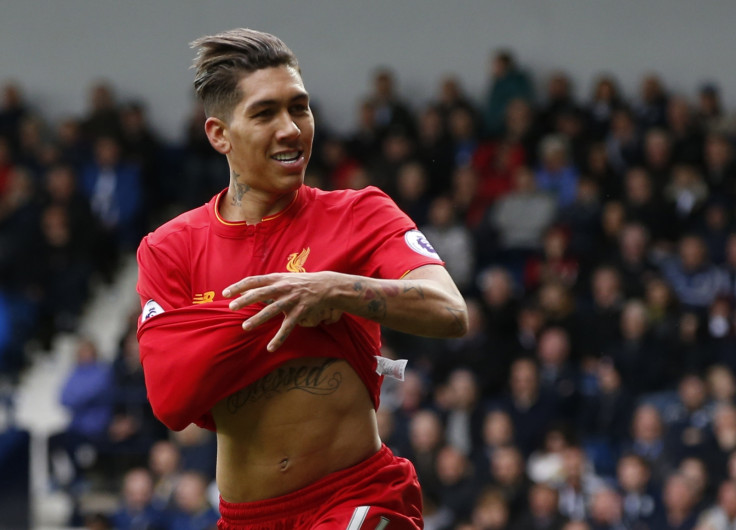 Lucas Leiva and Roberto Firmino have emerged as potential doubts for Liverpool's upcoming Premier League clash West Ham United. The Brazilian duo both played the majority of a dire goalless draw with Southampton last weekend but will need to be assessed ahead of Sunday's (14 May) trip to London Stadium.
"We spoke about Roberto. Since a few weeks [ago] we have had to manage the intensity in training," manager Jurgen Klopp said at his pre-match press conference. "It's a little bit of another muscle, which he feels. Everybody can imagine, Roberto is a real mentality player, so he wants always [to play]. We need to make the decisions for him sometimes.
"We left him out of training. It's a muscle thing. We have to wait and give him as much time as possible. Lucas, after the game, [felt the same]. I asked both a lot of times, 'OK? OK?' and everybody said 'Yes, yes'. After the game they felt it.
"After the game, Lucas felt two different muscles and we said 'OK, we have to wait also'. Lucas could be back in training today, we have to see. Roberto, tomorrow if possible. Then we make the decisions."
Injury-plagued striker Daniel Sturridge has featured as a substitute in each of Liverpool's last two matches after being sidelined with another hip issue. Adam Lallana has done likewise after recovering from a thigh injury sustained on international duty with England in late March. Klopp believes the pair are now ready to start again if necessary.
However, captain Jordan Henderson remains out along with long-term absentees Sadio Mane, Danny Ings and Adam Bogdan.
"After Watford, when Adam came in early, he felt the 70 minutes really. We had to manage the intensity through the week. After coming from injury, if you could immediately play 90 minutes that would be perfect. But, unfortunately in football, the real match is too intense that you can work that hard in training.
"He trained only twice before this game [against Southampton last weekend]. He was an option, but actually not for starting. Now he is in another situation, so that means we have two more options, if nothing else happens. I've said it a few times, as long as we have 11, we will fight."
Liverpool enter their meeting with a previously struggling West Ham side now reinvigorated by ending Tottenham Hotspur's title pursuit. They sit third in the table and one point ahead of Manchester City, who, like Arsenal and Manchester United below them, currently boast a game in hand. Klopp does not think his players will be nervous as they seek to cement their place in the top four and end a two-year absence from the Champions League.
"I don't think we will be [nervous]," he said. "It is easier to sit here to talk about it than to perform on the pitch. We only need one big result? Maybe not one result. We will see. As a player, with top quality, you need to be ready for the final moments. It's a game and we are good at this game. It's about being organised."