Steven Gerrard has urged the Liverpool fans to create an intense atmosphere inside Anfield as the Reds look to overcome a two-goal deficit against Zenit St. Petersburg.
There has always been a special atmosphere inside the special old ground on European nights and Gerrard has called upon supporters to arrive at the stadium early in order to create a wall of noise when the Zenit players take the field.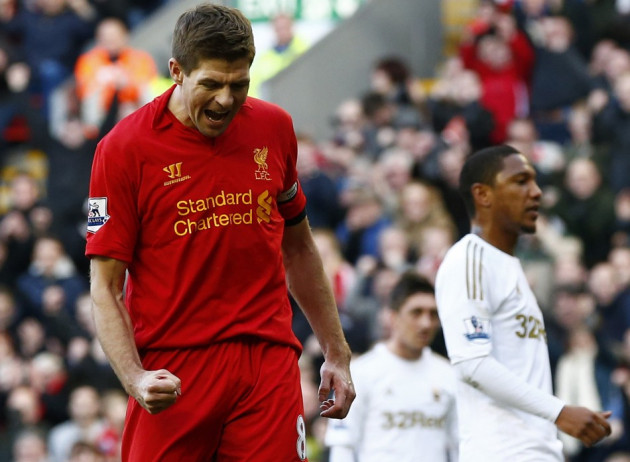 Liverpool trail 2-0 thanks to goals from Hulk and Sergei Semak but Gerrard believes that they can overcome the Russian champions with a little help from their 12<sup>th man.
"I already know they will be up for the game but if I could urge them to get into the ground as early as they can and make as much noise as they can, then it will make our job an awful lot easier on Thursday because they are so important," Gerrard told the official Liverpool website.
"I'd tell them to remember all of those players and all of those managers who have been quoted down the years as saying how difficult, hostile and good our crowd can be on their night.
"We know we can expect noise, passion, commitment. Hopefully there'll be a top team performance from us - that's how we want it to pan out.
"The fans have got a massive part to play. They are called the 12th man and this is an occasion that the players need them more than ever - especially after the result we got in the first leg."
Despite being able to call Anfield home for the whole of his playing career, Gerrard admits that the Liverpool anthem still sends shivers down his spine, especially on huge European nights.
"You'll Never Walk Alone is even more special to me now than when I first walked out at Anfield," revealed the skipper. "You understand what it means the older you get and how important it is to the club and to the fans.
"I still get the tingles down the back of my neck when I hear it. The hairs still stand up - especially on occasions like this when the flags are out and it's a big European night and you know that you are fighting for your last trophy. That's when you feel it even more.
"But nights like this are not just about the one song, it's about the noise level. And when it comes from four sides of the ground, that's when you know the fans are up for it and you feel that the result or the challenge ahead is going to be that bit easier.
"So many players and managers have been intimidated by the atmosphere in our stadium. There's no doubt about it - the fans have got a big part to play and if they can create that hostile atmosphere, like they have done many times before, it won't be easy for Zenit."
Gerrard has plenty of experience of competing in must-win games in Europe having helped Liverpool secure a 3-1 win over Olympiakos back in December 2004 that saw them later crowned Champions of Europe.
However, it is the win game against Chelsea in the Champions League in May 2005 that stands out for the 32-year-old.
"The one that sticks out to me is the Chelsea game," added Gerrard. "I know the fans try and get into the ground early to create an atmosphere.
"But against Chelsea in 2005, about 45 minutes before that game, as we were going out to do our warm-up, the noise was deafening and you could feel the ground shaking. If I had to pick-out one performance from our supporters, it would be that night.