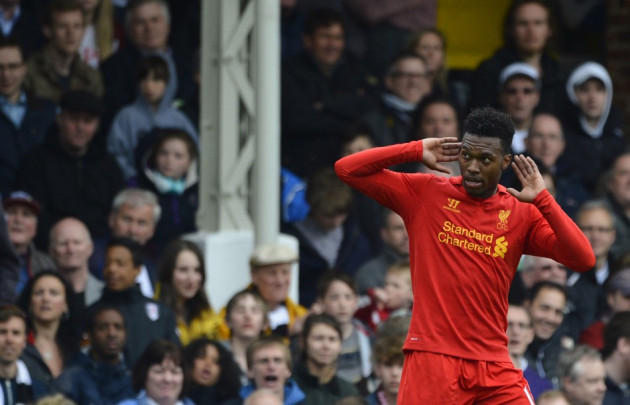 Ian Rush believes that Daniel Sturridge can continue to improve for Liverpool next season, with the striker demonstrating the qualities to make him a future star.
Sturridge made the move to Merseyside in January hoping to make a mark after unsuccessful spells at Manchester City and Chelsea.
So far he has done a good job of showing he can be a central figure in Brendan Rodgers' attacking line-up and ease the burden of providing goals on Luis Suarez's shoulders if the Uruguayan stays at the club next season.
And Rush believes that next season Sturridge will only get better for the side, despite suffering an ankle injury on international duty at the end of last month.
"Sturridge can get even better without a doubt," Rush told the Liverpool website. "He's got some great skill and with a good pre-season I think you will see an even better Sturridge next season.
"He needs to get fully fit. He was absolutely incredible in some of the games. He has got a good football brain, Coutinho has as well - some of the passes he put through were absolutely superb.
"When you've got the likes of Coutinho, Sturridge, Luis Suarez, Steven Gerrard and people like that you have got four or five people who can win your games when previously we only had one or two."
Rush insisted that if Sturridge can recover from his latest injury, he will bring some more exciting performances to the table as Liverpool look to challenge for a top four spot once more.
He explained: "Sturridge has had a couple of little injuries but if he can get fully fit and get through the pre-season then I think there are exciting times ahead.
"We know we can keep clean sheets. We are an attacking team who do create a lot of chances but it's all about putting them away.
"I'm looking forward to the new season. You look at the other teams like Manchester United with the manager gone so if we can get off to a good start, I think there are exciting times ahead."
Sturridge scored 10 times for Liverpool since his January move and more will certainly be expected of him next season, particularly with the future of Luis Suarez looking uncertain.