John Aldridge claims Philippe Coutinho has been a brilliant addition to the Liverpool squad this season after the Brazilian starlet continued to make a positive contribution as the side aim to fulfil their slim hopes of reaching Champions League football next season.
The Reds undid some of the hurt from losing to Southampton before the international break, charging to a commendable 2-1 win over relegation contenders Aston Villa at the weekend.
The side are now seven points behind fourth placed Chelsea, though they have played an extra game, and Aldridge believes that this is in part because of Coutinho's efforts since his move in January.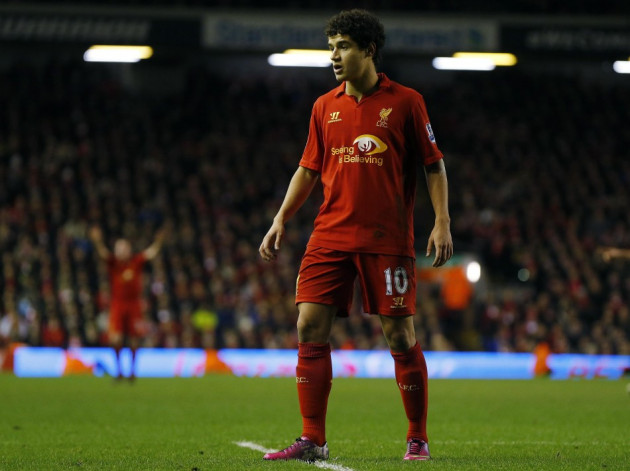 "It's early in his Liverpool career, but what a talent Philippe Coutinho looks," Aldridge said in the Liverpool Echo. "Make no mistake, we have signed a player here.
"His contribution at Villa Park was decisive, and thrilling. It's easy to get carried away when a new player comes into a team. We've seen players sparkle and fade at Anfield in the past of course, but this lad looks the real deal.
"He still has a bit of work to do on his physique and his stamina, and pre-season will be important in his development, but in terms of his work on the ball he's a genius.
"He's the kind of player Liverpool have been in desperate need of for many a year. Early days, yes, but what promising signs."
Liverpool now need to take maximum points from their final seven matches, and with Chelsea still to face, manager Brendan Rodgers will be hoping that their performance against Villa can be repeated in every fixture.
The importance of the remaining fixtures has not been lost on captain Steven Gerrard who believes that every game from now until the end of the season must be like a Cup final for the side to finish on a high.
"We need to keep the pressure up for that European place," he said. "A lot of the teams above us need to play each other, so we're hoping there are a few slip-ups and we can capitalise.
"It's important that we keep on taking maximum points. The manager told us after the game that every game is like a cup final now.
"There is a little short season now of seven games and we just need to make sure that we play to our maximum in every game because if we don't, like at Southampton, we know we will be punished. We need to use the Villa game as a level of performance from which to continue."