Liverpool legend Kevin Keegan believes that Brendan Rodgers will sell Andy Carroll in the summer and has advised the current Reds manager to sign a 'proper centre forward'.
Despite Carroll impressing in recent months for West Ham United, Keegan does not believe that Rodgers sees a future for the England striker at the club.
"I think it's pretty obvious Brendan doesn't want to [have Andy Carroll back]," Keegan told the Daily Mirror.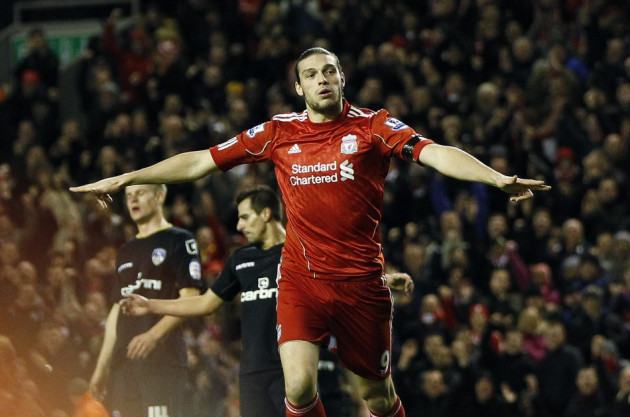 "The first thing managers normally do is take a look at the players and then if he wants to loan him out then loan him out at Christmas.
"He got rid of him straight away, so maybe that tells its own story."
Carroll has scored seven goals in his last 15 Premier League games for West Ham but it has always seemed likely that he would leave Liverpool permanently at the end of the season.
Should Liverpool cash-in on the former Newcastle striker then Keegan believes that his former club will still need to a sign a replacement who plays in a different way to current forwards Fabio Borini, Luis Suarez and Daniel Sturridge.
"I'm not sure about forwards because they've got a lot of them but they're all the same! They're all small, quick guys," explained Keegan who enjoyed a successful partnership with powerful striker John Toshack during his years at Liverpool.
"They need what I'd call a 'proper centre-forward', which none of these are, not Sturridge, Borini, [Philippe] Coutinho - these are all what I'd call second strikers at best."
Keegan also believes that Rodgers will need to improve more than just his front line as the club have struggled throughout the season and have fallen well short of challenging for a place in the top four.
The former England manager feels as though more strength in depth is needed, especially in defence where Jamie Carragher is retiring and Rodgers has become seemingly disillusioned with Martin Skrtel.
"They're still a lot of points and quite a way behind. They're going to need two or three players," added Keegan. "A good central defender is absolutely imperative.
"For whatever reason they've been playing Carragher instead of Skrtel, knowing that Carragher is going to leave. They'll definitely sign a central defender."