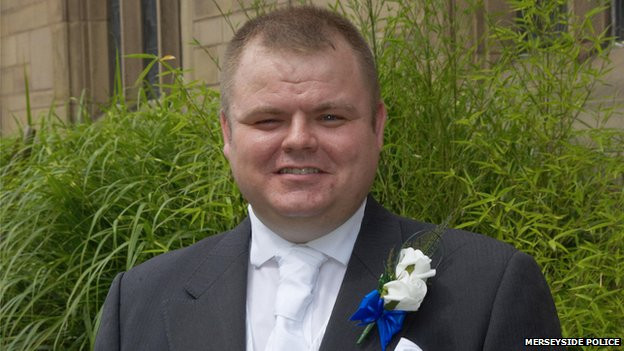 A 28-year-old man was arrested on suspicion of murdering off-duty policeman Neil Doyle.
Merseyside Police said the suspect handed himself in and is being interviewed.
A police spokesman said: "Merseyside Police can confirm that a 28-year-old man from Huyton has been arrested on suspicion of murder following an assault on Colquitt Street, in the early hours of this morning.
"The male presented himself at a police station this evening and is being interviewed by detectives."
PC Doyle was out with two colleagues when they were attacked on Colquitt Street, during a Christmas party night out at the Peacock bar in Seel Street.
A post-mortem examination showed Doyle died as the result of a fatal bleed around the brain after major blood vessels were damaged. The injury was consistent with an assault, a police spokesman said. His two colleagues suffered "nasty head injuries", according to Merseyside Police. One suffered a fractured cheekbone and the other a less serious facial injury.
Aloha manager Ryan McMahon told the Liverpool Echo his security team helped to give first aid to the victims after a fight broke out.
"There was two groups involved. Three lads were walking down Colquitt Street together, past Aloha. There was a bit of an altercation with another group, not even an argument really, with no shouting or swearing.
"Then they squared up to each other and a couple of punches were thrown. Our doormen, although the group weren't in the venue, did go out and assist in performing CPR until the police arrived.
"I have spoken to the one who performed CPR, he said there was a couple of minutes when there was a stand-off. The punches had been thrown and they were walking away," said McMahon.
"The guy didn't fall over and bang his head. He stumbled across to the other side of the road and then collapsed onto our DJ's car. It was a minute or two before they realised he was on the floor and they ran over and tried to resuscitate him and called the ambulance."
An eyewitness report that the victims were recognised as officers before being viciously attacked is being treated as a the key line of enquiry, according to the Liverpool Echo. However a spokesman stated that it was "not a set-in-stone motive".
Doyle was due to go on honeymoon with his wife Sarah in January, following their wedding five months ago.
Speaking at a news conference, Chief Constable Sir Jon Murphy said: "On behalf of everybody connected with Merseyside Police, I extend our heartfelt and sincere condolences to his wife Sarah and the rest of his family.
"The three officers were subject to an apparently unprovoked attack by a group of males. Following intensive emergency treatment at the scene Constable Doyle was taken to Royal Liverpool Hospital, where he sadly died a short time later."
Merseyside Police Federation chairman Peter Singleton said PC Doyle was "a good cop that any officer would be proud to call a colleague".
"Neil was the kind of officer the police service is built on. This is devastating news," he said.