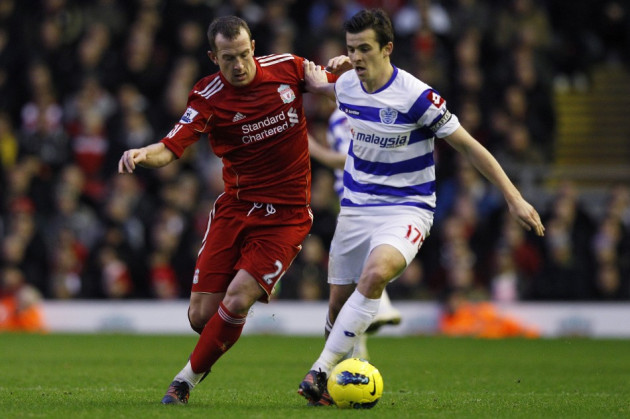 Liverpool midfielder Charlie Adam has played down suggestions he is currently in the best form of his career and contends the performance of the team is much more important than any personal praise.
Adam has been in outstanding form in recent weeks and was instrumental in Liverpool's 1-0 victory against QPR at the weekend.
The Liverpool playmaker turned provider for Luis Suarez's 47th-minute header that ended a run of four straight draws at Anfield for the Reds.
But Adam, who has played in every Liverpool Premier League match since his summer move from Blackpool, has said his first priority is to ensure the club achieves its targets this season, ahead of any personal goals.
"Everybody has an opinion on how you play, but I just want to keep playing as well as I can," he told the official Liverpool Web site. "The important thing for us is the team winning - not any individual.
"You can't play well every week, but if you give 100 per cent Liverpool fans will back you no matter how well you're playing. That's what I try to do - if I give 100 per cent, then they know I am working hard for the team and that's the important thing.
"I've played every Premier League game and I've really enjoyed it, but as I said the most important thing is the team and if we could kick on now and get a few wins in a row under our belt, we'll set ourselves up nicely for the end of the season."
Football Focus pundit Garth Crooks believes Adam is "growing with every game" at Anfield following his summer arrival.
Crooks claims the former Liverpool midfielder Paul Ince is one of Adam's detractors because he feels the 26-year-old should be more imposing during matches. Despite Ince's criticism of the Scotland international, Crooks intimates even Adam's fiercest critics must have "raised an eyebrow" following his eye-catching display against QPR on Saturday.
"The debate about Charlie Adam's impact at Liverpool continued on Football Focus this weekend when Paul Ince and Martin Keown renewed hostilities on set," Crooks told the BBC.
"Ince has been less impressed than Keown and thinks the Scot has to do more to establish himself as a regular in the Liverpool line-up.
"But even Ince must have raised an eyebrow when the naturally left-footed Adam looked up and delivered the perfect cross with his weaker foot for Luis Suarez to head home.
"He's growing with every game."
Injuries have robbed Liverpool of two of their most consistent midfielders of last season, with Lucas Leiva ruled out until the end of the season after injuring sustaining anterior cruciate ligament damage and Steven Gerrard side-lined with an ankle infection.
However, Adam believes the current squad is more than capable of performing in their absence.
"I've always felt responsibility because when you come to a club like this you have to take responsibility and you can't hide.
"The two players we've lost is a big loss for us - one is the captain and one is an international for Brazil. It's been difficult, but the lads have come in and done and great job. Hopefully we can continue that and it will be nice to see them back in the first team."