Brendan Rodgers is entering the biggest week of his managerial career. Defeat to bitter rivals Manchester United has ratcheted up the pressure ahead of two equally testing games likely to seal the Northern Irishman's fate.
First up is high-flying Bournemouth in an ominous League Cup tie. The Reds have come unstuck against lower league opponents before – the likes of Oldham, Northampton, Burnley and Grimsby evoking painful memories, each spawning huge inquests.
An effervescent Cherries side, now top of the Championship, will relish the opportunity of tackling this abject Liverpool team. Short on goals and confidence, a trip down south to a baying Dean Court is a daunting one to say the least.
Following hot on the heels of that potential upset is a crunch game with Arsenal next Sunday. The Gunners have themselves flattered to deceive this term but Saturday's convincing victory over Newcastle saw them power ahead of the Merseysiders. Success at Anfield would widen that gap further still and surely extinguish any faint hopes of a top four finish.
The question is: can Rodgers ride another two defeats? An Old Trafford capitulation sent the fan-base into meltdown and while the manager retains the public support of his paymasters privately discussions have surely begun.
For Liverpool's demise has been quite spectacular. Last May this team came within two points, or rather one slip, of the unlikeliest of title triumphs. By season's end they stood 20 points ahead of their Mancunian foes and seemingly back atop their parochial perch, if not a national one.
Fast forward seven months and matters have descended into farce. Sunday's surrender registered a seventh defeat of the season and confirmed our worst start in 50 years. A points haul of just 21 from 16 games falls short of even Roy Hodgson's tally during his turbulent six months in charge. Of course the latter, despite being tactically inept, never had £120m at his disposal.
Admittedly the Reds created more than enough chances to beat United, never mind steal a share of the spoils. Nevertheless they failed to do so and thus focus and blame shifts to the manager.
Sadly, he has plenty to answer for.
Before kick-off Rodgers made a bold call in dropping the erratic Simon Mignolet. A sensible decision, it was overdue - yet badly timed. Granted, the incoming Brad Jones did nothing wrong in the frenzied Old Trafford cauldron. That said, should he have been thrust into action for such a crucial game? Mignolet has been found wanting all season long but never put a foot wrong in Liverpool's previous encounter at home to Basel. An odd call, this could have backfired and Brendan was perhaps fortunate that Jones did not make any obvious errors.
His blushes were not totally spared however, as the recalled Dejan Lovren again proceeded to stink the place out. The Croatian, laughably valued at £20m, has made more errors leading to shots on goal than any player in the Premier League this season (6). That latest installment came on Sunday when his shanked clearance fell to Juan Mata and resulted in a Robin Van Persie winner.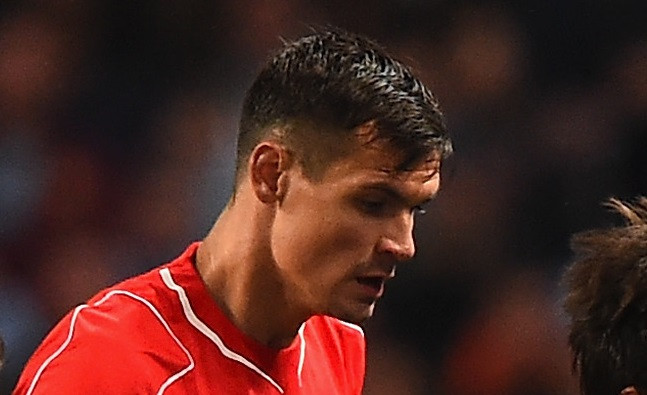 Why was he parachuted back into a nervous backline? Why was the fit-again Kolo Toure, last week named Liverpool's Player of the Month, sacrificed for such a liability? Rodgers' persistent selection of this rotten apple may soon cost him his job.
As Liverpool shipped their 32nd, 33rd and 34th goals of the campaign Mamadou Sakho - the vice captain of France no less - sat perplexed on the substitute's bench. Sakho is twice the player Lovren is, yet it seems even Phil Thompson would get a game ahead of him for Liverpool at the moment. A rumoured fall-out between manager and player could again culminate in the axe.
In front of this fragile back four sat Steven Gerrard, restored to the holding position and tasked with rehashing a failed experiment. Sadly the game passed him by, as it did on Tuesday. In his case that famous Batman quip rings true – 'You either die a hero or live long enough to see yourself become the villain'.
Indeed with each passing performance the captain's legacy is sullied. The upsetting thing is he can still contribute in the same manner as Frank Lampard if only his manager would 'manage' him. At 34 even Roy of the Rovers requires rest and rotation. Gerrard is denied both.
The decision to line up without a recognised striker, meanwhile, was a clear indictment of a failed transfer window. Ironically it resulted in far greater movement as the static Rickie Lambert and Mario Balotelli looked on. While benching the former may be understandable, ostracising Fabio Borini is questionable. The pint-sized Italian is by no means a long-term solution but he adds work rate and mobility. Excluding him from yesterday's squad was ill-advised, excluding him from that must win Champions League tie - unforgivable.
Indeed Rodgers appears to be cutting off his nose to spite his face. Further examples of misplaced stubbornness can be put forward. Take the disappearance of Emre Can – Liverpool's best player in a 2-1 defeat to Chelsea on 8 November. Since such time he has seen 15 minutes of football in seven games.
The costliest of all errors, however, is the outright refusal to hire a defensive coach. Liverpool have now conceded 115 goals in 92 league games under Rodgers' stewardship (1.25 a game). They are on course to ship a further 52 this term, eclipsing last season's eye-watering 50.
When asked whether help was needed, the manager point-blank refused to entertain the idea, offended at the very suggestion. 'There is no chance of us bringing in a defensive coach' he angrily countered.
Such blind faith harks back to the closing chapters of Gerard Houllier and Rafa Benitez's reigns. In both instances the Midas touch was lost, the footballing output stale. With regression clear for all to see, this duo pressed ahead with outdated tactics in a sorry state of defiance.
Both those men were granted a long goodbye courtesy of a stay of execution to the end of the season. Lose twice this week and Rodgers may not be afforded such a dignified exit.
Aaron Cutler writes for the hugely popular Liverpool fan site This is Anfield, and is also a feature writer for Country Music People Magazine.
You can follow him on Twitter @aaron_cutler, and find out more about This is Anfield via either their website or Twitter feed.