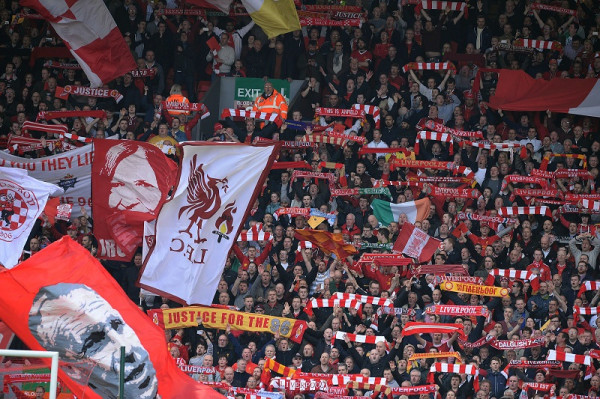 I was at Anfield last weekend in the midst of a curious atmosphere. The sea of colour and mass of fandom synonymous with The Kop was nowhere to be seen, displaced by a strategic protest. In a bold show of defiance flags were discarded, in their place one solitary banner decrying ticket prices.
This plan had its desired effect, an uncharacteristic lack of 'visible' support striking. Indeed as Jordan Henderson led Liverpool onto the field a look of intrigue and bemusement adorned his face, as strange a backdrop to 'You'll Never Walk Alone' as you are likely to see.
My fellow supporters were of course justified. The banner itself told the story. The first line of our anthemic and timeless chant, Scouser Tommy, was shared in print: 'Let me tell you the story of a poor boy'. Below it was daubed a visual representation of price hikes over the years. In 1990 a ticket on The Kop set you back just £4. By 2000 that had risen to £24, by 2010 - £42. You get the idea.
Indeed my own entry cost a handsome £50. No disrespect to Stoke, but I would expect such an outlay to coincide with a top of the table fixture, not a run-of-the-mill Premier League slog. To put that into context, a season ticket at Bayern Munich, arguably the best side in Europe, costs just £104.
Given that my pilgrimages to Anfield are sadly infrequent, I am prepared to shell out a few times every season. The local supporter, however, is faced with a far bigger dilemma. Can they afford and justify such expense fortnightly, not to mention additional cup and continental action? The fact is they should not have to.
Liverpool's rise in ticket prices is both alarming and distasteful, a trait shared by almost all of England's elite. Last season the club made £45m from match-day revenue, combined with a record-breaking £97.5m in TV funding.
Supplementing such eye-watering figures is a £6.8m windfall for reaching the Champions League group stage. Oh, and lest we forget, they also sold their one truly world-class player for a reported £75m. In short, they raked it in. Nevertheless this influx in prize money has not been reflected in any way whatsoever upon prices at the turnstiles. Why?
The prices themselves are just one slight on Liverpool's now infamous ticketing operation. The club sell what they call LFC Memberships, a £35 scheme that allows the starry-eyed priority access whenever match tickets go on sale. There is, however, one catch: it remains a free-for-all.
Unforgivably there is no cap on such membership sales, meaning thousands upon thousands of supporters flock to the phone lines and online checkout on one designated morning. With an entire half of the season's games up for grabs in one fell swoop, the race for seats is akin to the search for Willy Wonka's Golden Ticket.
Last July saw thousands of fans made to wait in an online queue, which exceeded two hours. Rumour has it some are still 'queuing'. The ironic thing here is all tickets sold out within 30 minutes. £35 down the drain save for a token club pen. Perhaps Everton truly are the People's Club.
In following Liverpool these days, you are cast as an unwitting pawn in an unashamed cash cow. As well as the aforementioned club membership (£35), I subscribe to the online media section (LFCTV GO), this priced at £5 a month. To my horror, I was recently asked to pay an extra £8 on top to view such content on my television set, as the club's in-house channel reverted to HD and thus a pay-per-view format. No discount for existing LFCTV Go customers or indeed club members, naturally. Then comes the mystical third kit - £50 shirt, £25 shorts, and £12 socks. Released in July it is still to be worn by the first team in a competitive fixture.
Money, money, money - all lining the pockets of those running a global institution marketable in Asia, America and beyond. In tapping such markets those running the club are sat on an ever-expanding goldmine.
Last year (2012-2013) Liverpool's turnover exceeded £200m. Commercial revenue alone was just shy of £98m. This year's accounts will trump that and providing Champions League Football is sustained there is a distinct possibility of Liverpool boasting a turnover of between £350 and £400m by 2017.
Still the cash grab continues unabated. It has not escaped supporters' attention that a re-developed Main Stand (construction beginning Monday) is a prime location for yet more hospitably boxes. Entry fees into the latter currently range between a painful £129 and a heinous £329.
Those willing and, moreover, capable of spending such money are fools unto themselves. The great worry is the most passionate, vocal supporters are being priced out. With their disappearance goes any remnants of an atmosphere. With the exception of a 20-minute crescendo against Real Madrid, Anfield has descended into near-silence this term. Does that in turn birth below par displays?
The fans' struggle is an admirable one. Organised by influential groups The Spirit of Shankly and Spion Kop 1906, plans of action were debated in meetings last week. No flags/banners was the first strike – refusing to contribute to the 'brand' until voices were heard.
A protest debuted at the Stoke game was designed to run and run until John W Henry organised an open forum. With the looming must-win tie against FC Basel on the horizon, the club owner grew nervous, claiming he would listen to concerns. Not good enough. A Kop stripped bare would remain until an official get-together was booked.
On Wednesday morning Boston relented. Colour and personality will return to the stands for the visit of Sunderland, but that real threat remains unless discussions are cordial and constructive.
The problem is Liverpool cannot be a lone voice. They can and apparently have led the protest but their efforts are in vain if the likes of Arsenal, United and Spurs do not follow suit. Put simply, a significant decrease in ticket prices would only harm Liverpool in the transfer market if their rivals continued apace and soared above them.
It may be tougher for certain clubs to take the battle to ownership. Arsenal's support, for instance, is hardly as vocal or famous as The Kop. But they must surely find a way, with their ticket prices the costliest in Europe. And for what? A side that regularly sells its best players and has delivered just one FA Cup in nine years. Not good enough.
Therein lies another problem. If you are short-changed for your outlay, animosity grows. Who wants to fork out hundreds for a ticket, petrol, food and merchandise if the team is languishing in mid-table or - in both Arsenal and Liverpool's cases - scrambling for a top four berth with no hope of a title challenge? You feel cheated and such angst is likely to spill out from the stands as big earners like Glen Johnson are targeted for a sloppy pass. An ugly, toxic environment ensues.
This war has only just begun. Liverpool appear to be leading the way but need the help of some unlikely friends. Football is after all nothing without fans.
Aaron Cutler writes for the hugely popular Liverpool fan site This is Anfield, and is also a feature writer for Country Music People Magazine.
You can follow him on Twitter @aaron_cutler, and find out more about This is Anfield via either their website or Twitter feed.