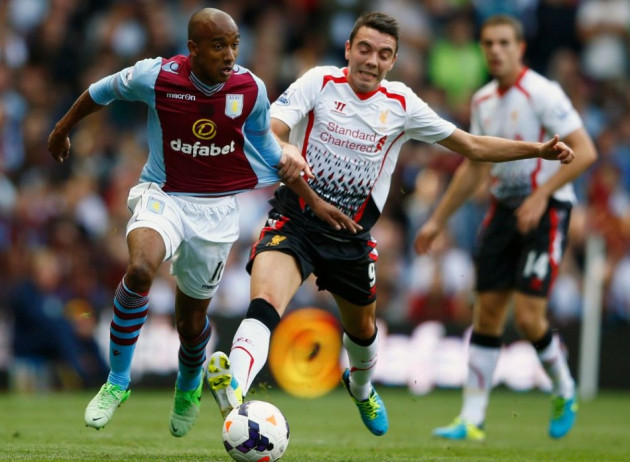 Liverpool striker Iago Aspas has revealed that he is finding it difficult to be warming the bench in his debut season for the Reds.
The 26-year-old was one of the players to arrive at the Merseyside club in the summer. Brendan Rodgers signed Aspas from Celta Vigo for a transfer fee that the Daily Mail reports to be around £7.5m.
The Spaniard is the third choice striker at the club, behind Daniel Sturridge and Luis Suarez. And with the duo being at peak form, it is difficult for Aspas to get a place in Liverpool's starting lineup.
"I'm finding it hard to be a sub at Liverpool having started games in the past few years. When I left Celta Vigo I was aware that to start for Liverpool wasn't going to be easy," Aspas told the Daily Mail.
Aspas has made six appearances for Liverpool in the league and is yet to score his first goal for the Merseyside club. Meanwhile, Sturridge and Suarez share nine goals between them in the Premier League this season.
Liverpool are second in the league table with level on points with table toppers Arsenal. Aspas is aware of the competition for a place in the starting line-up and is keen to cement a place in the team.
"I hope to carry on working hard and little by little to get more game time with Liverpool. I want to change the current situation. And now the team is winning and we are among the leaders in the Premier League, it's much hard to get a game," the Spaniard said.
Aspas is aware that lack of playing time could reduce his chances of making Spain's squad for the World Cup in Brazil next summer. However, the striker went on to congratulate Swansea star Michu for receiving a call from Vicente Del Bosque for the national squad.
"Now it's difficult to get in the Spain team because I'm playing less but I'm not worried about that. However, I will try to get in the squad. I know Michu and I congratulated him on getting called up by Vicente Del Bosque. I told him to work really hard so he will stay in the squad."