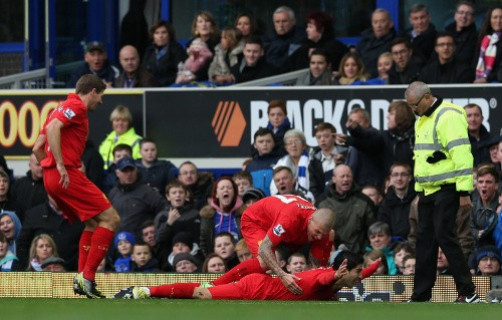 Everton manager David Moyes claims he has no issues with Luis Suarez's goal celebration in the Merseyside derby at Goodison Park which ended 2-2.
The Liverpool striker celebrated his side's first goal by running over to the Toffees bench and falling over in front of Moyes. The Uruguayan was reacting to comments from the Everton boss earlier in the week that he goes to ground too early.
"I thought it was great. I would probably have done the same if I had been the player, but he is going to have to dive in front of a lot of managers then I think. I might have done the same to him, if we had won 3-2 I might have done one in front of him as well," Sky Sports quoted Moyes as saying.
Suarez appeared to have scored a winner from a Liverpool free-kick deep into injury time but the referee's assistant controversially ruled it out for offside. And Moyes admits the official got the decision wrong but added that it was not a free-kick in the first place as Leon Osman's challenge on Steven Gerrard was fair.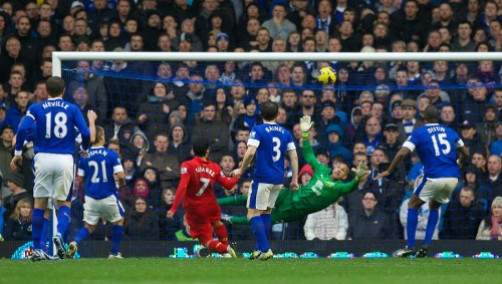 "I think we were a little fortunate with the goal. The goal is not offside, but I don't think it was a foul on Gerrard by Osman in the middle of the pitch, I think the referee got that wrong. But overall I think the referee had a pretty steady day considering the atmosphere and what goes on here," Moyes pointed out.
The 49-year-old was also adamant Liverpool should have been down to 10 men as he believes Suarez's 71st-minute foul on Sylvain Distin was indeed a red card offence. The Reds forward was cautioned by Andre Marriner for his tackle on the Everton defender.
"Definitely. They have shown me the tackle from behind down Sylvain's leg. It's over the top, down the back of the leg. He's topped him. I've got to say he was a very lucky man to stay on the pitch for his tackle," Moyes told the Daily Mail.
The Toffees boss also revealed he had a word with captain Phil Neville at the break after he was booked for diving in the first half. "Phil Neville went down too easily so I have had a word with him about it," the former Celtic defender stressed.