Liverpool manager Brenden Rodgers spoke to reporters on the role of new signing Philippe Coutinho, ahead of Liverpool's Monday night fixture against West Bromwich Albion.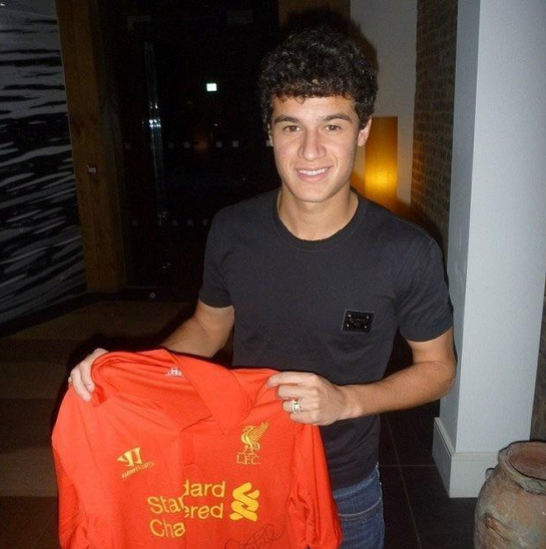 The Brazilian playmaker completed his first full training session with Liverpool on Friday and Rodgers was quick to stress the long-term nature of this signing. Unlike Daniel Sturridge, Coutinho is unlikely to go straight into the first team.
"He had been injured but he trained this morning. He's a young player that I've got very high hopes for," Rodgers explained, "Daniel (Sturridge) was ready to come in and play; with Philippe, we'll see how he goes in the next few days."
"He trained with the group this morning and we'll observe him over the next couple of days," he continued, "He's a top young player with big experience. Bringing him into the group adds competition."
Rogers stressed the need for a strong group of players competing with each other for a place in the side.
"It's very important that the players on the side are fighting to get into the team. The key for us all was to build a competitive squad to challenge," the former Swansea City boss said, "The players have done remarkably well up to this point, but there's still a long way to go for us - an awful lot of improvements to make, consistency to find. But we're on the right path."
Liverpool have impressed in their last two fixtures - against Premier League champions Manchester City and Arsenal - and were, arguably, the better team in both games. Steven Gerrard, in particular, put in commanding displays. Rodgers, however, maintains the England captain has been exemplary throughout the campaign.
"Steven is probably being highlighted now because of his goals and assists," the Northern Irishman added, "But for me he has been instrumental for a number of months."
Rodgers also pointed out that Gerrard's influence on the team extended beyond the playing field, echoing comments made by Roy Hodgson earlier this week.
"He's a wonderful professional and a great man off the field; a guy who is a real inspiration for any young player and leads his life the right way. On the field, the range of his passing, his touch, his leadership and his influence is getting stronger," he said.
Rodgers will hope Gerrard can inspire Liverpool to a victory at Anfield on Monday, with the side falling behind in the race for fourth place.