Brendan Rodgers has spoken of his plans to try and build a Liverpool side that is capable of once again challenging for a place in the top four after an inconsistent season which has seen much change at Anfield.
The Northern Irishman has tried to bring a new footballing philosophy to the club and there have been flashes throughout the season that prove that this Liverpool side can be a threat to the top clubs.
However, too many poor performances and an over-reliance on Luis Suarez in the first half of the season have left the club with little to fight for come the end of the season.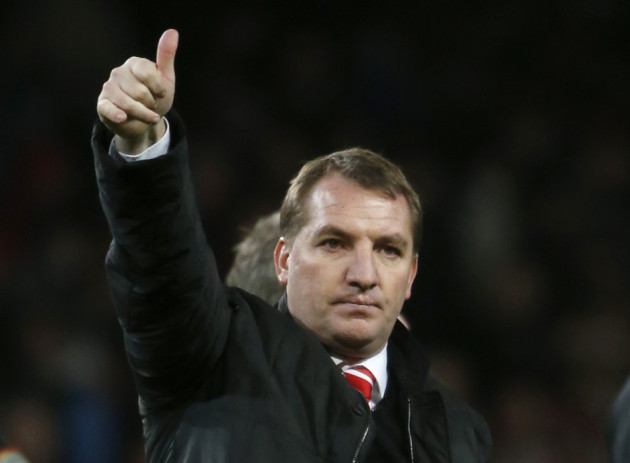 Rodgers has plans to win major trophies with the club and has admitted that he will have to spend money in the summer to be able to compete with the very best sides in England.
It will be our job in the summer to add more quality to the squad," Rodgers is quoted as saying on the official Liverpool website. "The owners have been absolutely great from day one, ever since I met them.
"They are trying to put something in place that is going to be sustainable. We know that at the top end [of the table] you have to spend money, but we won't have the resources that other clubs have.
"So we're trying to build our way there. A lot of our work is going to be in terms of our coaching and making the players better. We know that we need to have some experience in there as well and that hopefully can help project us forward again."
Liverpool did have success in the January transfer window as Philippe Coutinho and Daniel Sturridge have both enjoyed an impressive start to their careers at Anfield.
Nevertheless, Rodgers knows that consistency will be the key if Liverpool want to try and secure a place in the Champions League in the coming seasons.
"It's a difficult ask," Rodgers said of breaking back into the top four. "Look at Tottenham - they finished in the top four last year and spent a lot of money to try and retain their place in there.
"Chelsea, who were the Champions League winners, finished sixth last season. So for us it's a huge ask. But it's our goal and it's where we want to go. We want to keep growing and we want to look to win trophies.
"Next year the important factor is getting consistency in the league in order to move up the table and challenge for the top-four positions. If we can do that, then that will keep us pushing on."
The former Swansea manager was also quizzed on his experiences of learning under Jose Mourinho while at Chelsea, with the Real Madrid boss currently being linked with a potential return to Stamford Bridge.
"When I worked with Jose I had a great experience," he added. "He put a lot of trust in me as a young coach to work with top players.
"He encouraged me and gave me that belief that I could go on and become a manager. But until you actually step out there [into management], it's a different ball game altogether."