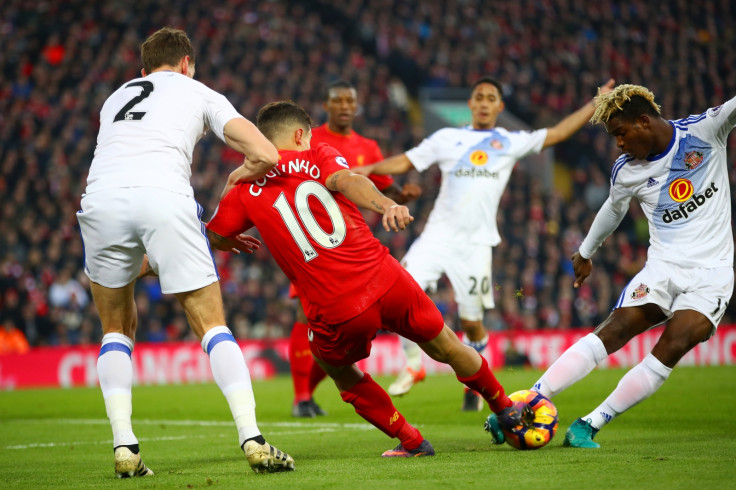 Philippe Coutinho has given Liverpool fans an early Christmas present after revealing he could return to action for the crucial trip to Manchester City on New Year's Eve. The Brazilian ace was not expected to make a comeback until January but, should his predictions come true, would miss the upcoming games against Middlesbrough, Everton and Stoke City.
The 24-year-old enjoyed an impressive start to the 2016-17 season, but was stretchered off during the 2-0 win over Sunderland with an ankle injury. Jurgen Klopp revealed on 29 November that subsequent scans had ruled out the player for around five weeks.
The boss said, as quoted by Liverpool's official website: "Phil needs between five and a few weeks until we have him back. We will see. He is not in for tonight and for the next few games."
Coutinho was expected to miss all of December, including the Merseyside derby at Everton and the trip to Manchester City on the 31st.
But the Brazil international has now revealed that he plans to be ready for the visit to the Etihad Stadium.
"This (returning against Manchester City) is still my hope - to return for this game," the Brazilian star said Liverpoolfc.com. "The rehab is going really well. I can now walk without crutches and I am working well with the medical team. So I'm pleased with how I am recovering."
This means that Coutinho would miss the coming games against Middlesbrough, Everton and Stoke City but would be ready for the hectic January period.
Meanwhile, the former Espanyol and Inter Milan star has admitted his relief at avoiding surgery over the current issue.
"Straight after the game, when I first saw the pictures and videos of my injury, I was a little scared," he continued. "But after the scans, of course it was bad, but not as bad as it could have been. I am happy, as it could have been a lot worse."
Liverpool beat Leeds in the EFL Cup only days after Coutinho's injury blow. However, they have suffered two consecutive setbacks in the Premier League in his absence, losing 4-3 to Bournemouth before being held to a 2-2 draw by West Ham on Sunday.
Coutinho is disappointed about the results but hopes his side can turn the situation around ahead of a crucial week, which will see his teammates facing Middlesbrough on Wednesday before the weekend trip to Everton.
"Obviously I have been very frustrated, because like any player who is injured, it is tough to watch rather than play and help the team," he added. "The last game was a draw and not the result we wanted, but the team still has great quality and I am certain in the next game we will come back stronger."