Liverpool striker Luis Suarez has responded to the criticism he has received in recent weeks after being accused of diving in order to win penalties.
The Uruguayan was booked against Sunderland when there was the slightest contact in the penalty area, before once again being denied a spot kick against Manchester United when he was seemingly caught by Jonny Evans.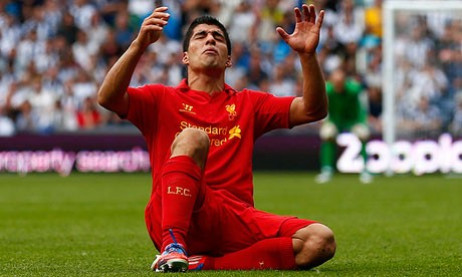 Suarez was then denied a certain penalty against Norwich when hauled to the ground by Leon Barnett, before theatrically going down in the box in the 0-0 draw with Stoke last weekend.
Stoke manager Tony Pulis was highly critical of the striker and called for the Football Association to introduce a three game ban for players who are caught diving.
"I've been on about and banging the drum about people who fall over," Pulis told the BBC. "It's an embarrassment. The FA should be looking at this."
However, Suarez, who is away on international duty for Uruguay, has stated that the criticism does not affect in the slightest.
"Any manager can say what he wants about me but it doesn't affect me," Suarez told the Liverpool Echo. "I am not worried about what they say. Let them carry on talking.
"In the meantime I will continue to play football and to concern myself with my team and with what I do. Nothing else matters."
The striker may have been criticised for his theatrics in recent games, but he has been in impressive goal-scoring form for Liverpool this season.
Suarez has scored five Premier League goals and is just one behind top scorer Demba Ba, whilst also being level with Manchester United forward Robin van Persie.
Suarez and fellow Liverpool team-mate Sebaistan Coates are both in the squad to face Argentina who are currently top of the South American qualifying group for the 2014 World Cup.