Despite failing to raise the funds to sign Clint Dempsey; missing out on Gylfi Sugurdsson to Tottenham and lying in the relegation zone, Liverpool have today been linked with Barcelona striker David Villa.
A report in Spanish publication Pento Pelota has stated that Villa is "tired of being an errand boy at Barcelona" and that Liverpool have already "contacted the Spanish side".
We can never read too much into these stories as Liverpool have consistently been linked with the Spain international for a number of years. In fact, the Merseyside club remain one of the favourites in the gossip columns whenever the transfer window is in full swing.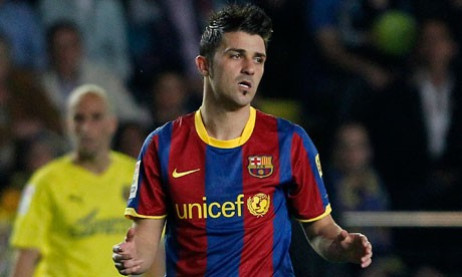 The Spanish journalist truly believes that Liverpool would genuinely have a chance of signing Villa, who, after a serious injury is only just retuning to full fitness.
The striker may have been left out of the Barcelona starting line-up on a number of occasions this season, he may well have fallen out with Lionel Messi, but would be maintain the idea of moving to Liverpool?
For one minute we need to forget amount the money that would be involved - it is unlikely that Liverpool would have the financial clout to secure the services of the striker - and look at whether they are still a major draw in world football.
This summer the race to sign Eden Hazard was in full swing. The two Manchester clubs, Arsenal, Tottenham and Chelsea were all in the running. The Belgian was viewed as one of the hottest properties in world football and Liverpool were not even at the start line.
Hazard admitted he joined Chelsea because they had won the Champions League, while Spurs were a genuine possibility as they could have taken the Blues place in Europe's elite competition.
Liverpool have now missed out on qualifying for the tournament, which they have won five times, in the last two seasons. They have never won the Premier League title and this season are yet to win a league game.
This summer they signed Fabio Borini, Joe Allen, Oussama and Samed Yesil, while Nuri Sahin joined on a season-long lioan. It is a far cry from the times when Xabi Alonso, Fernando Torres, Javier Mascherano and Ryan Babel were convinced to join the club.
From the 2001 UEFA Cup triumph, Liverpool remained a popular destination for players from across Europe. Their Champions League success in 2005 also helped secure the signatures of exciting talents like Jose Reina and Daniel Agger.
Now it seems Liverpool struggled to convince Sigurdsson that he should join forces with the manager he enjoyed such success with at Swansea.
The Reds do not have the finances to compete with Manchester United, Chelsea and Manchester City. With Arsenal continually finishing in the top four and Tottenham now pushing year-upon-year, it seems Liverpool are turning more to youth.
But what of the potential deal for Villa. He may well speak to his Spanish colleague in Torres, Reina and Alonso. All of which are bound to have kind words about the historic club. But with Liverpool struggling to finish in the top six, would a World Cup winner seriously consider making the move to Anfield. I'm not so sure.