Liverpool are looking at Inter Milan striker Antonio Cassano, as a potential replacement for Luis Suarez, should the Uruguayan leave the club in the summer, according to the Metro.
The Premier League's top scorer thus far this season has been linked with moves to Manchester City and Bayern Munich, a rumour which is gaining more ground with Liverpool looking unlikely to finish in the top four this season. The Reds are currently on 42 points, 10 behind fourth-placed Chelsea.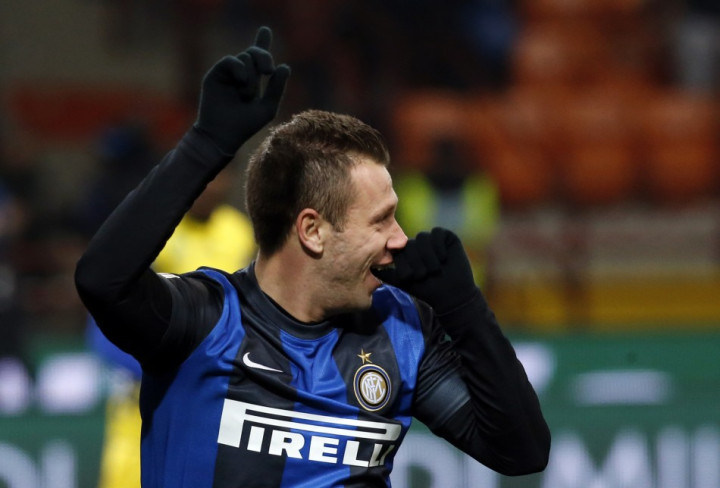 Cassano has made 20 starts this season for Inter, scoring seven goals and assisting eight in the league, a meagre retrun when compared to the fire-power provided by Suarez for Liverpool. The Italian was recently involved in a training ground bust up with manager Andrea Stramaccioni and is reported to be put up for sale in the summer.
The 30-year-old is expected to cost much less than the £40m tag being stamped on Suarez but with the Reds having incurred a loss this season, the management will be looking to add more money in their coffers and are unlikely to invest the money recouped from Suarez's transfer entirely into finding his replacement.
Cassano, if he administers a move to Merseyside will have a lot in his plate, as he is expected to fill the Uruguayan' shoes. Suarez has already scored 21 goals this season in the league, surpassing Robin van Persie as the league's top scorer.
Suarez's loss, if at all, will come as a shock to Liverpool fans, who have been repeatedly notified of his commitment to the Reds. Bayern are the most likely destination for the 26-year-old as he recently disclosed ambitions of moving to the German club, who are set to be led by former Barcelona manager Pep Guardiola from next season.
Rodgers on Coutinho
Meanwhile, Brendan Rodgers believes January signing Philippe Coutinho will only get better with time, elaborating on the 20-year-old's blistering start to the season at Liverpool, scoring on his debut in their 5-0 win over Swansea City and also assisting two in the 4-0 win over Wigan last week.
"He's adapted and fit in very well. He's a very talented young player who is a wonderful technician. Tactically, he participates in the game well and understands this way of working and playing. He created two goals with two assists against Wigan and was very impressive. He's still getting his fitness - he's up to 65/70 minutes now but as each day goes by he's getting stronger," Rodgers said.