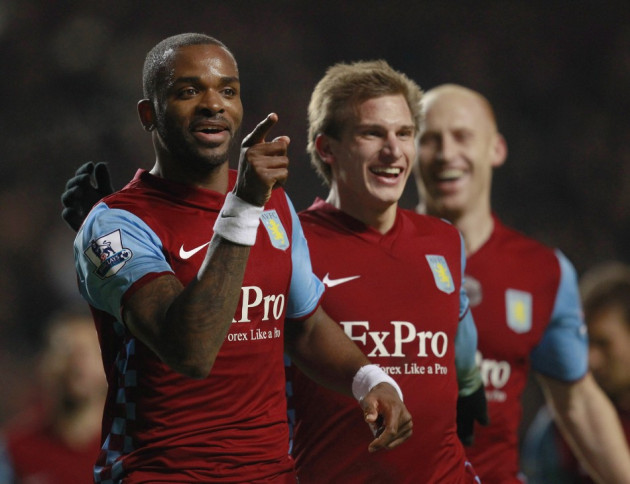 England Under-21 international Marc Albrighton has urged Liverpool-target Darren Bent to stay at Aston Villa during the January transfer window.
Bent, 27, has been linked with a move to Anfield as Liverpool boss Kenny Dalglish seeks to bolster his strike force in the wake of Luis Suarez's eight-game ban for racially abusing Manchester United's Patrice Evra.
But Villa, who are on the verge of completing the short-term loan signing of LA Galaxy striker Robbie Keane, have repeatedly denied speculation linking Bent with a move to Liverpool.
Manager Alex McLeish revealed last week that there had been no contact with the Merseyside club, with Villa unwilling to sell the player to Liverpool or any other Premier League club.
And Albrighton, who scored in Villa's 3-2 FC Cup win at Bristol Rovers on Saturday, said he was eager for Bent to spurn Liverpool in favour of staying at Villa Park.
"You don't want to see your best players leave. Darren is one of our best players.
"It would be sad if he left. We have got the players that can fill his boots if he did. Hopefully the gaffer will bring some players in but all of us want Darren to stay - 100 percent."
Meanwhile, McLeish has been forced to reiterate his belief that Bent will not be sold in January.
The Villa manager has consistently denied rumours that Bent is bound for Anfield during the current transfer window and the Scot revealed he had been assured by Dalglish that there is no interest from Liverpool in the England international.
"People like to speculate and use social networking sites and they are having a field day," McLeish is quoted in the Liverpool Echo.
"If there is anybody that wants him they certainly haven't contacted me and Darren has said he wants to stay at the club.
"Whenever I have asked anyone outside the club I've been told flatly 'No'.
"I have spoken to Kenny and he said there was nothing in it."