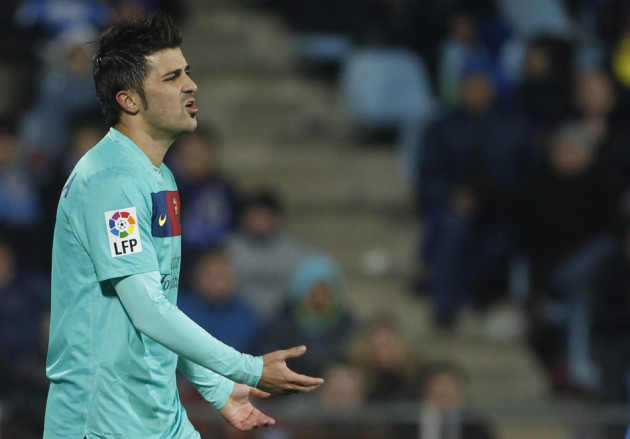 Liverpool have been put on red alert after Barcelona transfer listed David Villa on Wednesday, according to reports in Spain.
Villa has struggled to hold down a place in the Barca starting XI this season, with manager Pep Guardiola often preferring Lionel Messi to the Spain international.
The Liverpool target had to make do with a place on the bench for Saturday's 3-1 victory against Real Madrid amid reports of a fallout with Messi.
And reports in Spanish newspaper Marca today suggest Liverpool are weighing up a move for Villa after Barca announced they would consider offers for the 30-year-old.
"Barca open the door to Villa," reads the headline in Wednesday's Marca. Inside, the paper reveals "the Catalan club has put on the market the striker."
Liverpool have been linked with the Spain international for over a year and Kenny Dalglish's desire to ease the goal-burden on Luis Suarez is likely to see them enter the transfer market in January.
Marca reveals Villa is likely to end up at "one of the great English clubs, mainly Chelsea, Liverpool and Aston Villa. The Anfield club have shown much interest in his move, although its economic offer does not seem to [match] Chelsea."
However, earlier this week Dalglish appeared to rule out the possibility of signing a striker in January, saying: "Irrespective of what I say, it's not going to stop speculation we are going out in January to sign Joe Bloggs up front, or whoever. I don't need to say anything."
Meanwhile, earlier this month Villa distanced himself from speculation linking him with a move to the Reds.
"I feel important, and even more so when the manager speaks well of me," he said. "I've always had the affection of team-mates and especially the public. I noticed it since the day I arrived. So it's not vital that I score.
"I don't give any importance to what is said outside the club. I don't have to be worried about all of this; it's all the same to me. I work so that the manager, my colleagues, the fans and my family are happy, and that's the case."