Italian champions Juventus are considering a bid for Liverpool striker Luis Suarez, according to sports Web site Corriere Dello Sport. The Uruguayan international has 10 Premier League goals this season and is the joint highest goal scorer, alongside Robin van Persie, Demba Ba and Michu. The report quotes a sum of €35m (approximately £30m) as a possible transfer fee, although an earlier report by the Mirror placed a release clause in the South American's contract at £40m; the report adds Chelsea, Manchester City and Spanish club Atletico Madrid are monitoring the situation.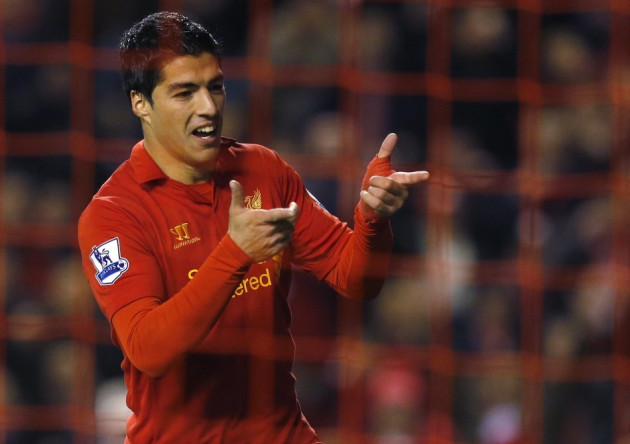 Suarez has previously revealed his admiration for Juventus, when he confided to international team mate Martin Caceres, who signed for the Turin club in the summer.
"We have talked about Juventus and he's asked me about the club without going into specifics about the players. I told him that Juventus are an outfit that wants to always win. He's happy in Liverpool, but he liked what I told him about Juve," the 25 year old said earlier this season, adding, "After all, who wouldn't want to play for such an ambitious club? Let me put it this way, I would be happy to share a room with him at Juventus too."
Unfortunately for Caceres, Suarez may not be Juventus-bound. Corriere Dello Sport's proposed transfer fee of £30m is unlikely to be accepted by the Anfield club, particularly as the striker recently signed an extension keeping him with Liverpool till 2016. And, in a further show of solidarity with the Merseyside outfit, Suarez has committed himself to the club... although such commitments can change.
But more importantly, given Chelsea, City and Atletico are interested, should Brendan Rodgers be forced to sell the forward, the release clause will almost certainly be activated, meaning Juventus' reported bid will not be enough.
The Corriere Dello Sport report quoted the Italian club's general director, Giuseppe Marotta, as confirming the club would evaluate its playing staff during the winter transfer window, with the emphasis believed to be on signing a defender, a left-sided attacking player and a striker.
The Turin club do have Arsenal's Danish international Nicklas Bendtner on loan from the Gunners but the 24 year old forward has failed to impress the Serie A champions so far (yet to score in eight appearances) and The Sun reports Juve will return the Dane to the Emirates in January.