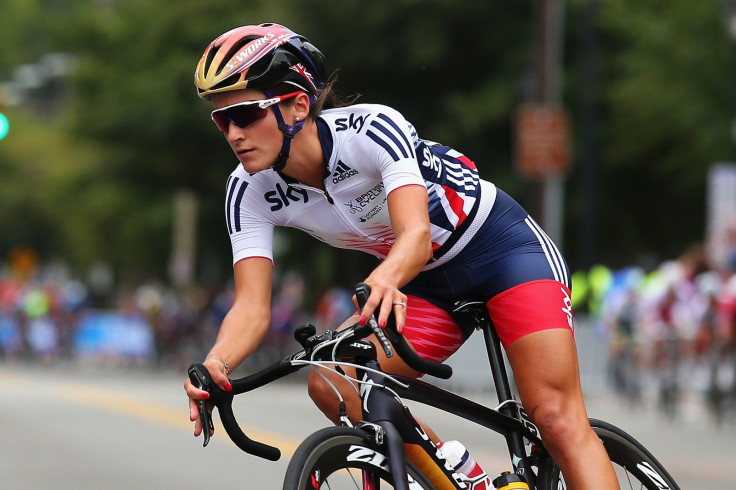 British cyclist Lizzie Armitstead has issued a lengthy statement in her own words to clarify the situation surrounding her recent successful appeal at the Court of Arbitration for Sport (Cas). The 27-year-old, a silver medalist in the road race at London 2012 who is also the reigning national, commonwealth and world champion, is free to compete at the Rio Olympics on Sunday (7 August) and has avoided a possible two-year suspension after succeeding in her bid to have a missed drugs test from August 2015 declared void.
Armitstead was charged with three whereabouts failures by UK Anti-Doping (Ukad) in June, but it was subsequently established by Cas that the"Ukad doping control officer had not followed required procedures nor made reasonable attempts to locate Armitstead" during her first strike at the UCI Women's Road World Cup in Sweden.
She was at the hotel stated but says she had placed her phone on silent in order to avoid waking a teammate staying in the same room. A test conducted the very next day provided a negative result and the Otley-born rider states that calling a mobile phone is not an approved method to attempt to locate an athlete.
Setting the record straight on her second missed test last October, she said: "Despite being reported as a 'missed test', this was in fact a 'filing failure'. Ukad did not try to test me, instead this was an administrative spot check. They found an inconsistency between an overnight accommodation and a morning time slot.
"A busy post-World Championship period meant I had no firm plans and as such was changing address and plans very quickly. I made a mistake. This was an honest mistake rather than trying to deceive anybody. A mistake that many athletes who are honest with themselves will admit to having made themselves. I was tested by Ukad later that week and produced a negative result."
Armitstead cited the departure from British Cycling of her "fail-safe mechanism" in Simon Thornton as one of the reasons as to the lack of prevention of a third oversight, which involved her failing to change her one-hour testing slot due to a family emergency.
"This is where I believe I have the right to privacy," she explained. "My personal family circumstances at the time of the test were incredibly difficult. The medical evidence provided in my case was not contested by Ukad, they accepted the circumstances I was in. Ukad did not perceive my situation to be 'extreme' enough to alleviate me of a negligence charge. A psychiatric assessment of my state of mind at the time was contrary.
"In my defence, I was dealing with an emergency family situation and it was a traumatic time and I forgot to change a box on a form. I am not a robot, I am a member of a family, my commitment to them comes over and above my commitment to cycling. This will not change and as a result I will not discuss this further, our suffering does not need to be part of a public trial. I hope I have made it clear that family comes before cycling. I am not obsessively driven to success in cycling. I love my sport, but I would never cheat for it."
One of the key questions with regards to Armitstead's case was why she seemingly did not challenge the first missed test that was later struck off from her record.
"Ms Armitstead chose not to challenge the first and second whereabouts failures at the time they were asserted against her," Ukad chief executive Nicole Sapstead wrote yesterday. "At the Cas hearing, Ms Armitstead raised a defence in relation to the first whereabouts failure, which was accepted by the panel. We are awaiting the reasoned decision from the Cas panel as to why the first whereabouts failure was not upheld."
Addressing this, Armitstead, who says she now has one filing failure and one missed test to her name, said: "Ukad are allowed a maximum of two weeks to inform you of a 'strike'. When I received the letter from Ukad I immediately contested it with a written explanation. This was not accepted on the eve of me travelling to America for my World Championships. I had no legal advice or external support at the time."