Newtown, Sydney is well known in Australia for the abundance of large-scale murals that can be found around town. One of these murals is now the centre of a row involving Jennifer Lawrence's new psychological thriller Mother.
An ad agency has angered residents after it decided to paint over a mural depicting an array of animals under the words "It's a jungle sometimes" with a mural for the Darren Aronofsky film set for release next week (15 September).
Apparition Media, an advertising agency often hired to paint murals promoting brands and major movies, was responsible, and have been the target of a abuse from locals and people on social media.
One member of the community didn't take long to deface the new mural, writing: ""F**k off! It really is a jungle sometimes – NO RESPECT!" across it.
Unlike some murals in the town - including one of Martin Luther King – the 'Jungle' mural was not protected as a heritage site, meaning the ad agency's decision was lawful even if it was a mistake.
Apparition's social media pages were bombarded with criticism. "Hopefully as you guys claim to be artists yourselves you can concede that your idea of hijacking a legitimate art movement and selling it to big, unethical corporations like Nike... not only damages the public, but the artists themselves, as you are reinforcing the idea that artists need a commercial element for their work to have value in society," wrote one user on Instagram (via The Telegraph).
"Normally I really like the work you guys do but I feel pretty disappointed that you would cover another artist's work at all, regardless of the importance of the piece," wrote another. "Spare me your copy paste response, just realise that you should be respectful of other artists in the future... but hey I guess when you get paid that marketing money it's pretty easy to misplace your moral compass."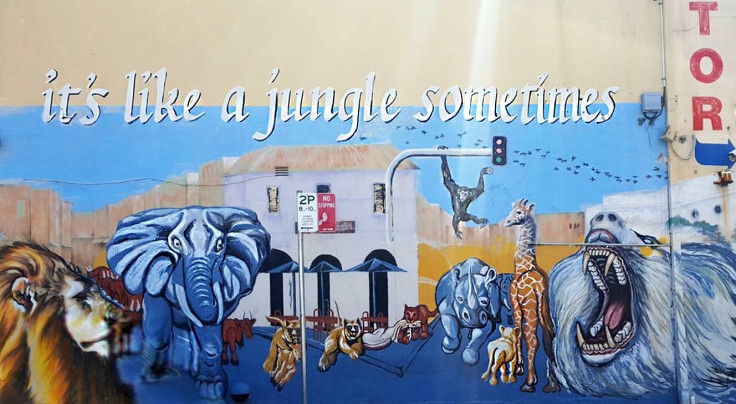 Someone else, this time on Facebook, said: "Shame on you for destroying actual art that has local and historic community value and replacing it with advertising for your s**t movie." The comment, and many others were since deleted by the company.
It didn't take long for Apparition to apologise.
"Let's just start by saying we're sorry to you all and you've been heard loud and clear. We managed to get in touch with the original designer/artist and he is a ripping bloke. He told us the history of the mural and what it represents."
The post goes on to explain that the company apologised personally to the artist and that he wants the agency to finish their mural as he is "supporting of what we do". The agency will work with the artist to restore the original after its completion, covering all the costs.
"We apologise to the Newton community for painting over this much loved mural, hopefully something good will come out of all of this," the apology concluded.