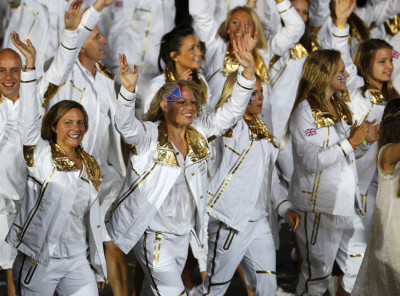 The first week of the London 2012 Olympics has been a thrill-a-thon of greatness by sportsmen and women from Great Britain and around the world.
But while spectators have been focusing on the performances, the world's greatest athletes have sometimes been revealed as paying scant attention to their own wardrobes.
The fashion police went into the attack immediately when the Space Age-inspired uniform worn by Team GB for the opening ceremony was heavily criticised. Some fans called it "garish" and "unflattering".
British designer Stella McCartney was forced to deny she was behind the white and gold tracksuits created by high street chain Next after some critics claimed it made the British squad look like "a team of Elvis impersonators".
Renowned fashion designer Giorgio Armani, however, was praised for the "sleek" tracksuits that he created for the Italian Olympic team.
Many teams, including Jamaica and Brazil, have also managed to embody the spirit of the games with their sporty creations, while others fell short of the mark.
IBTimes UK takes a looks at some of the fashion hits and misses of London 2012.