Air pollution in London reached "black" alert for the first time today (23 January) – cutting short playtime for school children and sparking condemnation from Mayor Sadiq Khan.
The first "very high" pollution readings on a new scale introduced by Khan in the summer of 2016 were recorded at five sites across the capital this morning, including Sir John Cass primary school in Aldgate.
The data was collected by the London Air Quality Network, a collaboration between the mayor's office and experts at King's College London. In addition to this morning's five "black" alerts, a further 12 "red" (or "high") alerts were announced by the organisation. They also warned that they expect London's air to get worse as the week progresses.
Khan described the situation as "shameful", adding: "This is the highest level air quality alert. Everyone, from the most vulnerable to the physically fit, may need to reduce physical exertion."
Sir John Cass Primary School reduced outdoor activity for for their under-five-year-olds and monitored older children during playtime. Head teacher Tim Wilson told the Evening Standard: "We make sure our staff can take sensible and informed action on days like this. As a school we are supportive of any action that improves air quality in London."
A spokesman for the City of London Corporation said: "We are fully supporting Sir John Cass Primary by reducing the traffic flows around the school and through the Mayor of London's Schools Clean Air Zones Project."
The spike in pollution was caused by pollutants heading towards Britain from the continent where similar levels of extreme pollution are currently being felt. More wood was also burned in the south-east of England over the weekend than at any other time during winter.
The situation has been exacerbated by the build-up of settled weather in the south-east. Pollutants have not dispersed from London's atmosphere at the normal rate because of a lack of wind.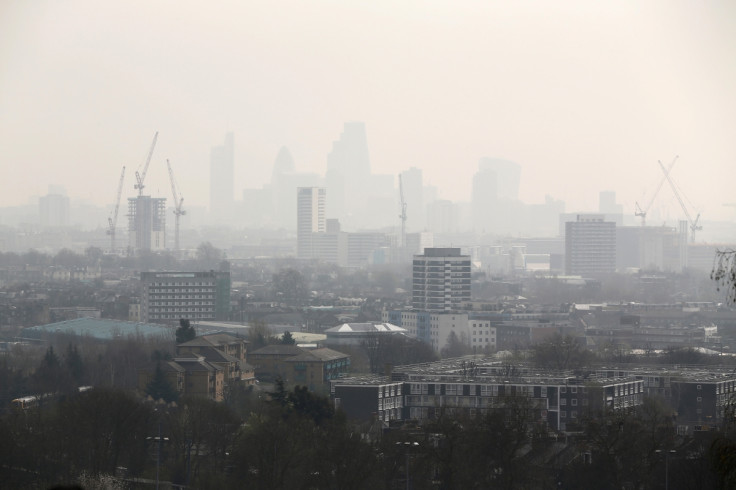 The London Air website explains that during bouts of very high air pollution levels: "Adults and children with lung problems, adults with heart problems, and older people, should avoid strenuous physical activity. People with asthma may find they need to use their reliever inhaler more often."
They add that the general population must "avoid physical exertion, particularly outdoors, especially if you experience symptoms such as cough or sore throat".