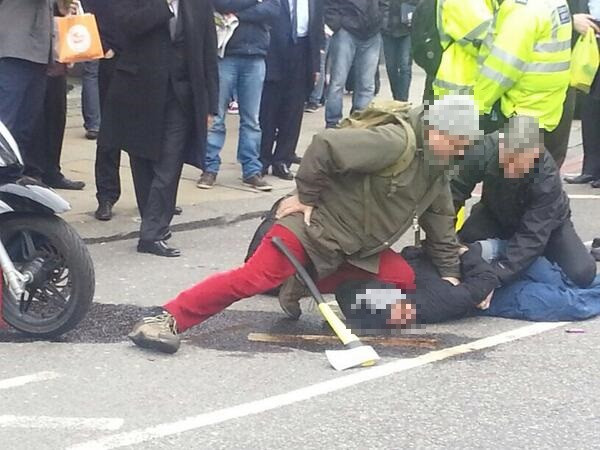 An axe-wielding robbery suspect has been arrested after he was wrestled to the ground by a bystander after a moped-riding gang attempted to rob a jewellery store.
The attempted smash and grab took place at the H Stain jewellers on London's Victoria Street near Buckingham Palace by a group armed with axes and hammers.
As they tried to get away, a member of the public grabbed one by his hood and pulled him off his moped and on to to the ground. The suspect was pinned down until police arrived.
Police believe the robbers fled empty-handed.
Photographs emerging on Twitter appeared to show the man on the ground with an axe lying next to him.
The have-a go-hero, who did not wish to be named, told the Telegraph: "It was like watching a scene from a Guy Ritchie movie.
"These guys screamed up on the scooters and two of the pillion passengers jumped off and tried to smash their way into the displays with axes.
"I waited for a second because I wasn't sure they had guns and when they tried to zoom off I grabbed one who was driving by the hoodie.
"Not putting his hood up was a fatal mistake as it gave me something to get hold of.
"He swore at me and I managed to yank him off his machine. I thought 'this is my bloody city – why should thugs like this get away with it?'
"I hope the police manage to get the rest of them," he added.