London: B&B owner kept 33 dogs in 'river of urine' at £4m Holland Park mansion [Video]
A man has been found guilty of animal cruelty after more than 30 emaciated dogs were found in "appalling squalor" in part of a £4m home in London's exclusive Holland Park.
Robert McElhill, 27, of Holland Park Avenue, west London, was convicted at City of London Magistrates Court of six counts of cruelty under the Animal Welfare Act of 2006 and has been banned from owning dogs for 10 years.
Police discovered the dogs in shocking conditions at the multimillion-pound home in June last year.
Officers who entered the family's living quarters on the ground floor and basement were instantly struck by the very strong smell of urine and faeces.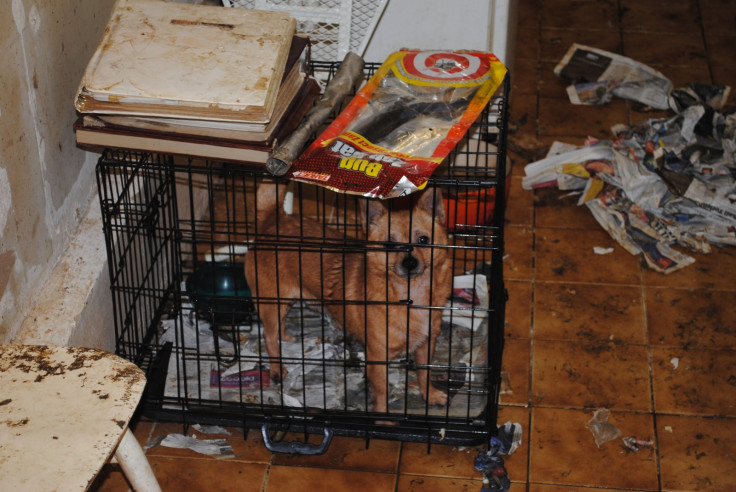 Dogs were found in an appalling condition at part of the Holland Park Avenue home
Met Police
During the course of their search, officers recovered a total of 33 dogs, seven of which were puppies and one of which was a pit bull-type dog.
Most of them had been shut inside rooms, in groups of two to six separated from other groups of dogs by makeshift partitions.
The rooms were dimly lit with windows boarded up or blacked out, and the floors, which had gaps between some of the floorboards, were covered in faeces and urine and there was no bedding. Many of the dogs had both old and recent scarring.
There was no water or food and the only place available for the dogs to sleep or rest was on the stairs themselves.
More than 30 dogs were kept in shocking conditions at part of a multimillion-pound London home
Met Police
Almost a third of the dogs were deemed to be underweight or very underweight and after just five weeks in police kennels the Lurcher, mother to the seven puppies, put on over 35% of her body weight.
Police Sergeant Peter Madden from the Dog Support Unit said: "These dogs were living in appalling conditions with very limited space. Many of them had no water and there was no dog food found inside the property.
"There was no outdoor access, no toys or any form of environmental enrichment and they had long nails indicating a lack of outdoor exercise."
All the dogs were seized and placed in police approved kennels for their welfare. Some of them have since been re-homed but others remain in kennels awaiting the outcome of the case.
As part of the judgment, all the dogs found at the address were signed over to police who will now begin the job of finding them suitable caring homes.
© Copyright IBTimes 2023. All rights reserved.