English football club Queens Park Rangers (QPR) has offered to supply buses to collect stranded refugee children from Calais and bring them to the United Kingdom.
As French authorities declared the Calais 'Jungle' refugee camp empty on 27 October, on-site charities that support refugees and asylum seekers described around 1,000 refugees still in the 'Jungle' – of these over 100 are children.
Under a UK government pledge to take in unaccompanied minors announced in May, hundreds of child refugees have already been brought into the country – without family ties with anyone – but last month the French authorities said Britain is not living up to its "moral duty" to take in some of the asylum-seeking children left in Calais.
IBTimes UK first reported that children, who had failed to gain entry to the on-site containers housing the minors, had been forced to sleep on the ground in temperatures well below 10C outside the camp after they were not granted a shelter for the night following the demolition of the camp.
Since the demolition, the minors have been sleeping in containers. While each is supposed to sleep 12, reports have emerged that up to 20 children are sleeping in each containers, some on the floor or on table. There are also concerns about food and water shortages.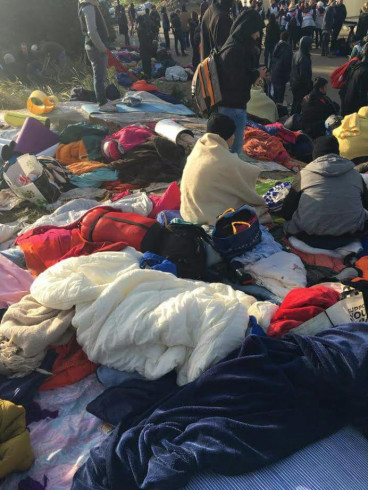 Lord Dubs's 'urgency' plan for the children
On Monday (31 October), however, it emerged that Championship football club QPR had agreed to be part of a new plan to bring in more than a thousand refugee children.
QPR Co-Chairman Tony Fernandes said in a statement: "There are children in France who are facing awful challenges, and seeing things that no child should see.
"We are working in conjunction with Hammersmith & Fulham Council to provide transport for these children."
The London club said it had chartered a fleet of buses to go to France and collect the children as part of a plan set out with its local authority, Hammersmith & Fulham council, which also has volunteer social workers on standby, ready to travel to France to assess and support the minors, according to the Guardian.
The plan was outlined by Labour peer Lord Alf Dubs in a letter to the home secretary, Amber Rudd, and the French ambassador, Sylvie Bermann, on 31 October.
"I formally request that the French government allows us to send in coaches and social workers to collect those refugee children that have a right to be here in the UK. We will need assistance with travel documents out of France. We have people arranging the coordination of this," Dubs said in his letter.
"I am also writing the British government and hope that this intervention can bring the assistance the refugee children so desperately need. Given the urgency of this matter I should be grateful for a quick response."
Dubs came to Britain as a child refugee fleeting from the Nazis, and was an amendment to the Immigration Act 2016 to offer unaccompanied refugee children safe passage to Britain.
The plan comes after efforts to bring some of the minors to the UK came to a halt over the weekend after France allegedly asked the British authorities to suspend their work in the camp for several days. Negotiations over how children's applications are processed are still under way with the British government.