Calais: Children forced to sleep outside in bitter conditions after being denied access to shelter
French authorities declared Calais camp 'empty' but charity claims vulnerable children left with nothing.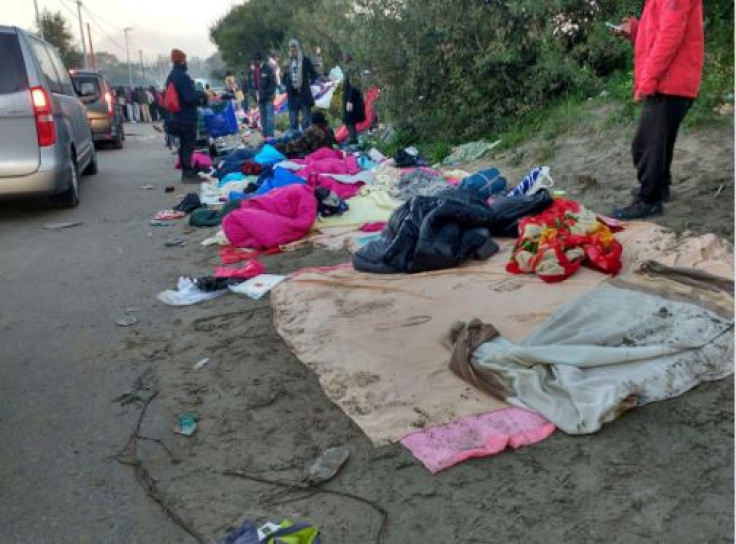 Children have been forced to sleep on the ground in temperatures well below 10C outside the Calais refugee camp after they were not granted a shelter for the night following the demolition of the camp, a charity working with the children has claimed.
As demolition crews continue to clear tents, French authorities said nearly 5,600 people had been moved to reception centres including 1,500 unaccompanied minors being housed in the container camp. Prefect of Pas-de-Calais, Fabienne Buccio, said it was "mission accomplished" for the operation.
On Wednesday (26 October), 300 unaccompanied minors were turned away from the registration centres and sent back to the camp. The charity's co-founder, Josie Naughton, described the situation as a "humanitarian emergency".
While French authorities declared the Calais refugee camp empty on Thursday morning (27 October), on-site charities that supports refugees and asylum seekers described around 1,000 refugees still in the 'Jungle' – of these over 100 are children. Some of the children who waited to register and were turned away on Wednesday are now being arrested.
"Those children didn't manage to get wristbands – which they get when they are registered giving them entry to the containers – and when they went back to the Jungle, there were no government officials around, and no one to tell them where they could sleep as many of their homes had been destroyed," Nico Stevens, head of projects for Help Refugees, exclusively told IBTimes UK in Calais.
"It was very distressing for the children. Our volunteers ended up taking the children to the converted shipping containers camp [set up nearby to house them], we were pressurising the authorities [Prefecture and CRS riot police] to allow the children to have a safe space to stay and sleep but ended up with about 100 children with absolutely no place to sleep."
These children were not given accommodation because they had not been registered.
"They wouldn't even allow tents. So a group of volunteers took about 40 of the children to one of the informal schools in the camp, where they slept, while another 30 slept outside the container camp, in the open, on the floor. It was very cold last night – under 10 degrees."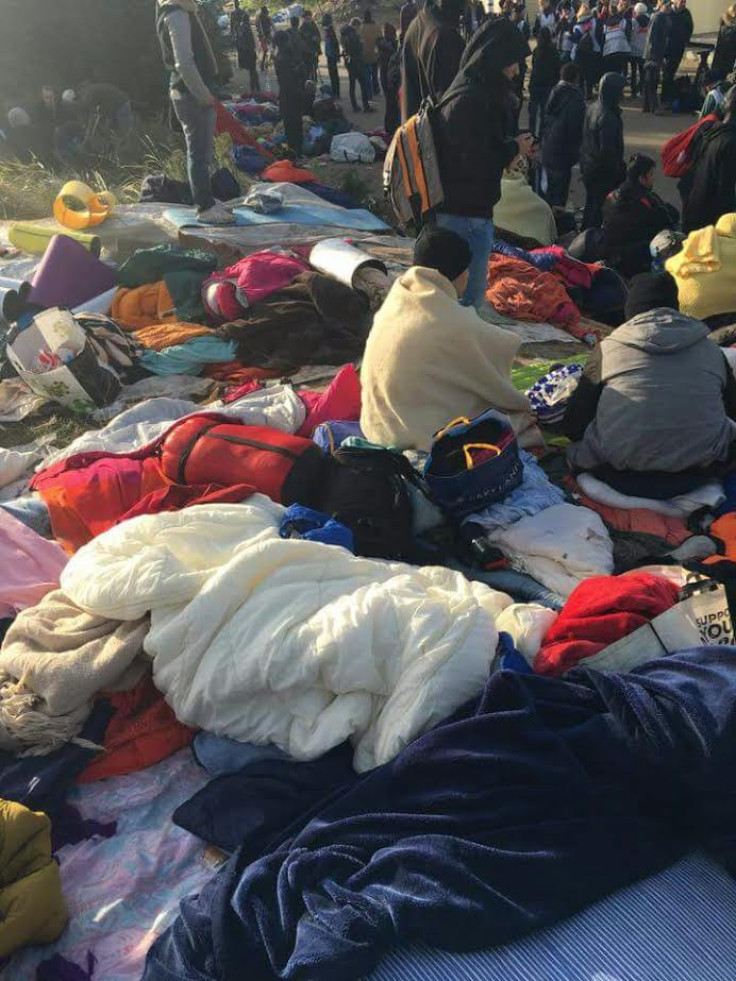 Dozens of refugees, including children, were forced to sleep in the cold after authorities prevented them from setting up tents, Help Refugees told IBTimes UK
Refugee Info Bus
Stevens described how the children, the most vulnerable group of refugees in the camp, are "extremely traumatised".
Children 'a criminal threat'
On Thursday morning, Help Refugees also witnessed a number of minors being taken away by police from the school where they had spent the night. The children were taken to the French border police (PAF).
"Police rounded up some of the children and arrested them for not having wristbands, and said they were a criminal threat," Stevens, a spokeswoman for the charity, said, highlighting an ongoing lack of certainty.
According to her, children were on Thursday morning told to go to the registration warehouse very early and were asked to queue in the dark, before being asked to go back to the containers. Officials then advised them to wait for an hour where mini buses were expected to pick them up.
"Patrick [head of CRS] told all the children to go to the bridge and form lines where where French Office of Immigration and Integration (OFII) will register them. No information is being given as to where they will be taken."
While Stevens condemned the fact the children had to walk kilometres this morning "with no provision or solution from the authorities", she warned children who will not be registered by 14:00 "are at risk of being arrested".
French authorities were yet to respond to a request by IBTimes UK at the time of writing.
© Copyright IBTimes 2023. All rights reserved.