Charities have said that about 100 children remain at the Calais refugee camp, despite claims by French authorities that the so-called "Jungle" had been cleared.
As some of the former camp was left in flames lit by migrants, dozens of children were left in a queue outside converted shipping containers set up nearby to house them, the charity Save the Children said.
Earlier on Wednesday (26 October), the charity group Help Refugees said up to 300 unaccompanied minors were turned away from the registration centres and sent back to the camp. The charity's co-founder, Josie Naughton, described the situation as a "humanitarian emergency".
A spokeswoman for the charity Doctors of the World told the Guardian that they were concerned for the welfare of unaccompanied minors.
"We've been told the container camp is full, we've also had reports of children who've lost their wristbands giving them entry or those who've had them ripped off them in the struggle to get access.
"Where they will sleep tonight is a massive concern."
As demolition crews continue to clear tents, French authorities said nearly 5,600 people had been moved to reception centres including 1,500 unaccompanied minors being housed in the container camp.
Prefect of Pas-de-Calais, Fabienne Buccio, said it was "mission accomplished" for the operation.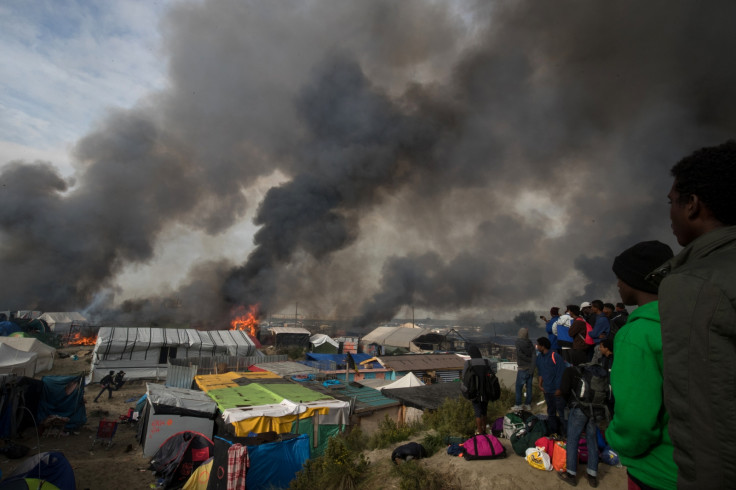 However, UK ministers have expressed concern at the plight of the children, whose welfare could be at risk.
Yvette Cooper, chair of Labour's refugee taskforce, said: "There is nowhere else for them to go and at a time when parts of the camp are ablaze this is clearly a perilous situation.
"The French authorities need to urgently act. They need to immediately open up emergency accommodation such as the Jules Ferry centre in the camp to ensure that all lone children have a safe space to go to."
The UK Home Office said that French authorities were responsible for "all children in Calais during the clearance operation - including those being assessed for possible transfer to the UK", the BBC reported.