London Fashion Week 2014 kicked off in style over the weekend as fashion icons, industry gurus and celebrities were treated to an exclusive look at spring/summer 2015 collections from some of the world's leading designers.
Showcases from the likes of Matthew Williamson, Temperley London, House of Holland, Marios Schwab and Topshop Unique got the festival of fashion moving in full swing.
Matthew Williamson's 1970s-inspired catwalk show at the BFC showspace was jam-packed with delights - including Balinese flower-inspired prints on blouses and flowing halter-neck dresses.
Ruffles, feathers, sequins and exotic shades of aqua, orange and hot pink adorned the ensembles that celebrites were undoubtedly eyeing up for their next holidays from the front row.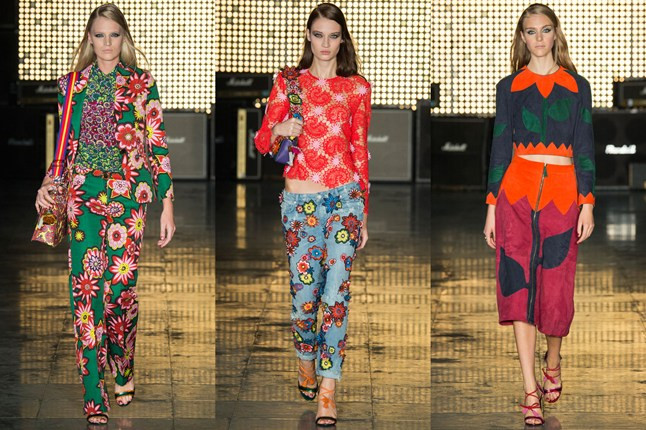 If there's a key lesson we can learn for SS15, it is that 1970s flower power is here in a big way.
House of Holland looked to the era for its collection, with funky floral print worked across shirts, dresses and skirts in brazen tones of red, orange, yellow and green all helping to create the hippie chic vibe.
Floral patchwork jeans, pink bags and a bomber jacket that read 'Chief Fluffer' gave character to the wacky offerings which appealed to the younger crowd.
On the other hand, Marios Schwab's offering reflected the 'barely there' theme that was big this year and is set to continue in to 2015.
Taking inspiration from the natural form, the London-based designer's experimentation with exposure made for one of the more interesting shows.
Key pieces were tops and skirts featuring geometric patterns on light coloured fabric, covered by a mesh to create an optical illusion.
There were a few structured pieces in the collection including jumpsuits and dresses in cobalt blue and black dresses with white fabric trailing off the sides - echoing the monochrome trend that is also set to be key in 2015.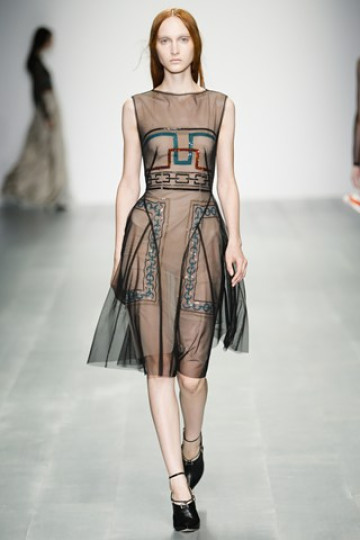 But just when we thought muted and seductive was the order of the day, Sibling reminded us that loud, whimsical and avant-garde is here to stay.
Sibling London's SS15 catwalk show left onlookers feeling like they had jumped on a magical merry-go-round.
The focal points of the collection were frou-frou skirts, voluminous knitwear, loud prints and colourways of white, cherry red, powder blue and orange teamed with black.
To complete the look all the models were styled with huge bows on their heads.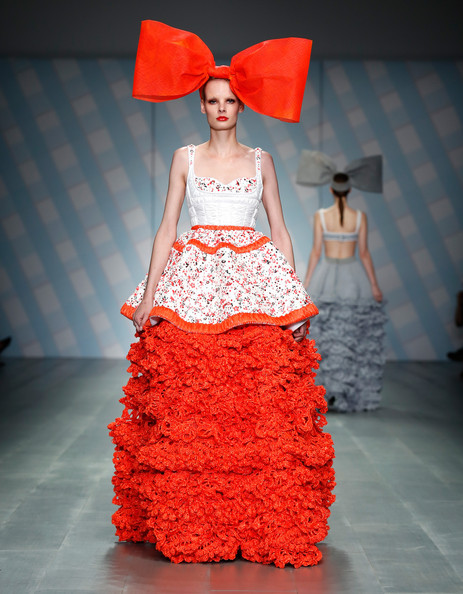 If there's one thing we can take away from the Sibling collection, it's that clashing colours, experimentation and crazy prints will play a big role in next year's trends.
Topshop Unique's show also demonstrated the power of print and colour in a big way. It was all about red and black stripes against white backdrops, with navy being another prominent shade in the collection.
The evening-wear options consisted entirely of pretty nude see-through dresses in a nod towards the barely-there trend.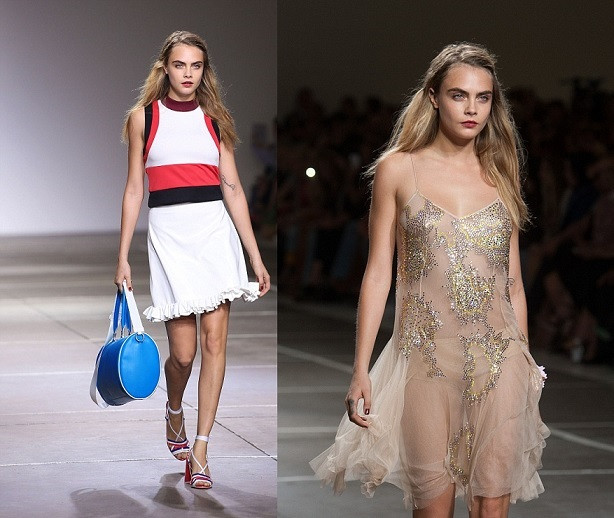 Like Sibling, Bora Aksu also explored elements of the whimsical theme in his collection, featuring long skirts and veils in varying shades of indigo and violet on the runway.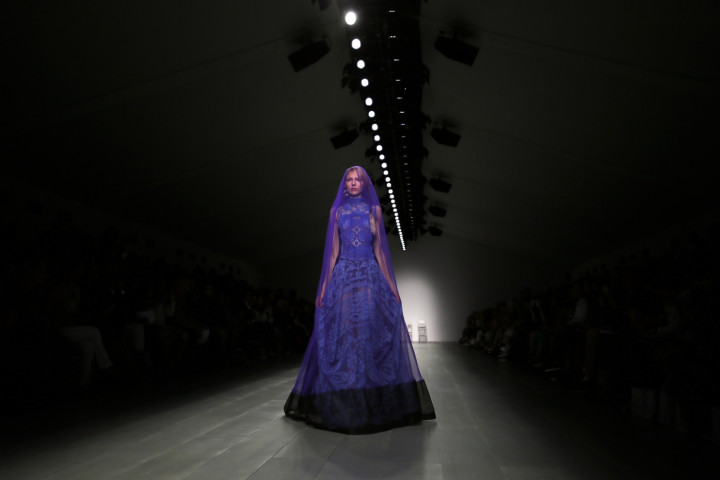 Giving another spin on the whimsical theme was London designer Richard Nicoll - whose Tinkerbell inspired creations certainly had the wonderland effect.
In a move away from his signature tailored look, the designer embraced fluid lines and femininity. Slouchy blazers, draped knits and shimmering iridescent skirts came in pastel tones.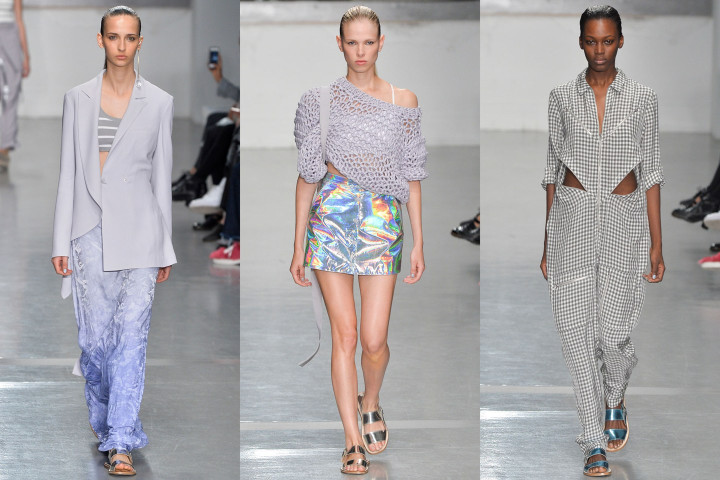 The show-notes explained the new direction saying that it "presented the notion of slowing down, embracing calm, travel, fitness and work-life balance in the modern world".
An emphasis on fitness and travel was a theme in other collections, such as up and coming designer NasirMazhar's streetwear-inspired collection.
The Turkish designer revealed the latest line draws influence from belly dancers.
"I wanted to move things on. My girl is still sexy, still tough but this time not so in your face."
Crops tops with sweatpants slashed to reveal underwear and jumpers with the arms cut off gave a more organic interpretation of the sports-luxe theme than seen in many of the shows over the weekend.