Lesbian, gay, bisexual, and transgender (LGBT) people of Muslim, Jewish, and Christian faith have come together during this year's gay pride event in London, as they spent an inter-faith weekend to promote openness.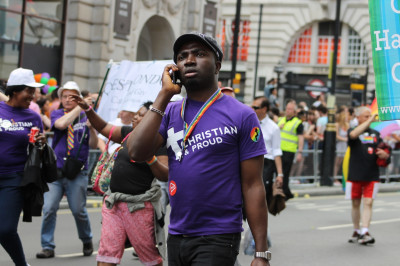 Christians At Pride, an umbrella organisation that represents every Christian LGBT group in the UK, was present during the colourful parade in Central London on 28 June.
"It's important to be there and be seen by both sides. You can be gay and Christian or gay and Muslim or Jew. If you feel that you have a faith, come and join us," Pam Gold, co-convenor of the Evangelical Fellowship for Lesbian and Gay Christians told IBTimes UK.
The inter-faith groups spent the weekend discussing religious beliefs and acceptance, and around 300 members took part in the parade.
During the parade, young people walked alongside parents, holding signs that read: "I am gay and Muslim, get over it", "God Loves Everyone", and "I'm Muslim, don't panic".
For many parading in Central London, the parade served as a way to protest against what they consider to be rejection from religious leaders.
"The Anglican Church has a problem with us, because we are LGBT, and it puts restrictions on being a priest and being gay, as well as same-sex marriage," Gold said, referring to the fact that cannon law - which governs Anglicans - prohibits same-sex marriage.
"But if you also look at the LGBT community, the majority are not involved in any particular faith, which is quite a shame. I have been in a situation in the past when I was and came out in an Evangelical church and I had to leave. That was very difficult. That wasn't just me, that is lots of people who get thrown out of the church. Who would want to put oneself in that situation?"