The Mayor of London election is a referendum on the Conservatives' affordable housing record and an opportunity to tackle inequality in the capital city, according to Sadiq Khan.
The issues are at the heart of the Labour candidate's manifesto, which he launched with the help of former minister Tessa Jowell in Canary Wharf on 9 March.
"This city gave me and my family a helping hand we needed to fulfil our potential," the Tooting MP declared.
"But the sad reality facing our city today is that too many Londoners are missing out on the opportunities that I was given. Too many are being price out of our city. This election is a referendum on the Tory housing crisis."
Khan added: "For young families, even those on good incomes, home ownership is increasingly a distant dream.
"For those on average incomes, it's become a fantasy. Yet most Londoners do aspire to own their own home just like me wife and I did.
"Those Londoners need a Mayor with the ambition and ability to deliver a massive step-change in home building."
The Labour hopeful will use Transport for London (TfL) land to help developers build more properties in London. The policy, not dissimilar from the Green Party's, will enable builders to stay away from the green belt.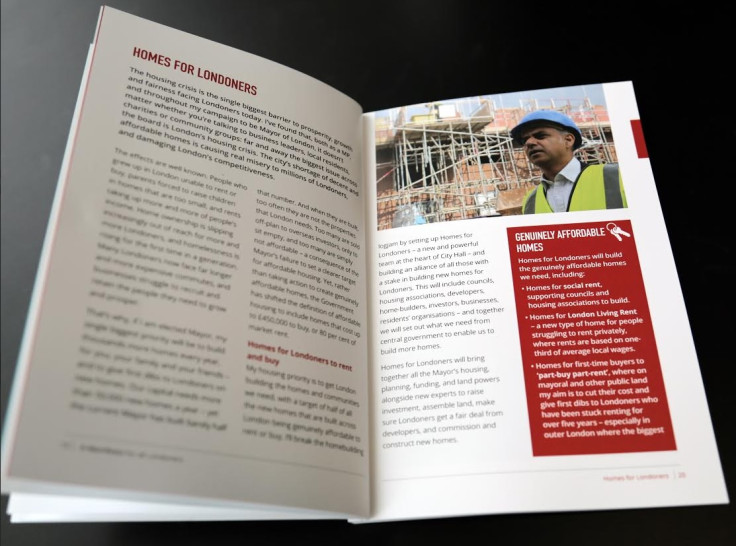 Khan also promised, among other things, to use City Hall to attract institutional investors, pension and other investment fund to finance developments. In addition, the Labour candidate announced he would introduce an online database of "rogue" landlords to help renters in the capital.
Borrowing from WEP?
To tackle inequality in the capital, the former lawyer said he would be a "proud feminist" in City Hall and publish an annual gender pay audit in bid to make salaries across the sexes more equal. A policy the Women's Equality Party candidate, Sophie Walker, has claimed as her own.
The MP's equality drive will also include a digital inclusion strategy, which will be led by a new Chief Digital Officer. Elsewhere, a Mayor Khan would "make sure that London's transport workers understand the needs" of disabled and older passengers.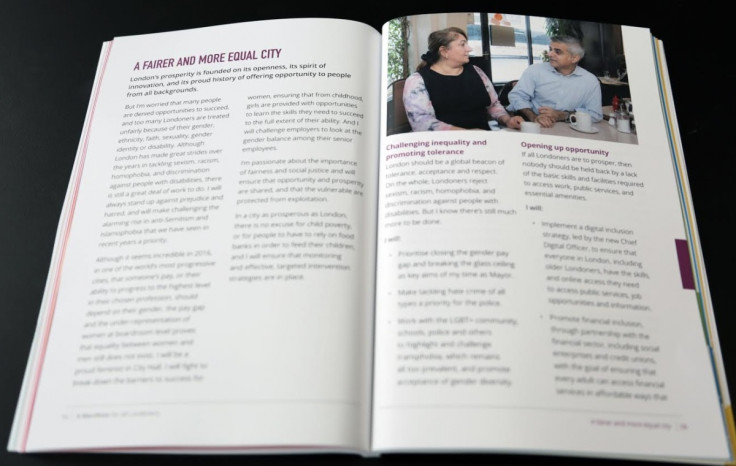 Costing the fares freeze pledge
The manifesto also sets out how Khan will fund a fares freeze on public transportation in the capital, a pledge the Labour candidate has faced increased scrutiny over. Khan has insisted that the measure would cost City Hall £450m over four years, but TfL has claimed the policy would total £1.9bn.
"My plan to freeze transport fares will be funded by making TfL a more efficient and profitable operation, not by cuts to spending on better services and more capacity," Khan wrote in his manifesto.
"TfL is a vast organisation, and does many things well. But it also inefficient and flabby – spending hundreds of millions of pounds each year on agency and consultancy fees, failing to implement shared procurement and functions between its surface and underground transport divisions, and allocating public money to Boris Johnson's vanity schemes such as the cable car."
Tory hopeful Zac Goldsmith has continually attacked Khan over his links to Labour leader Jeremy Corbyn, claiming Londoners would be "lab rats" in a left-wing economic experiment if Khan won the City Hall race.
But the Labour hopeful is still the front-runner in the May election, with the latest opinion poll from Opinium for The Evening Standard putting him 10 points ahead of Goldsmith on second preference votes (55% versus 45%, respectively).