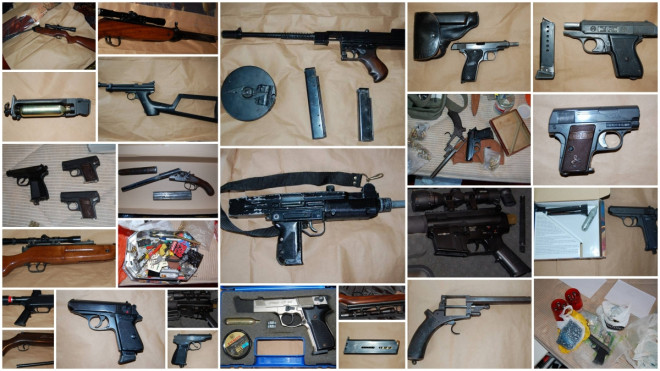 A tommy machine gun, a rifle with a scope and a sawn off shotgun were among the firearms seized by police in one of biggest gun raids in London for years.
They were part of a cache seized from a house in Leyton by officers in a morning raid on Wednesday.
A 51-year-old man was arrested at the house and taken in to custody as part of an investigation by Operation Trident – which probes black on black crime in London.
Acting Detective Superintendent Gary Bruce said "seizing guns has helped us vastly reduce gun crime across the capital.
"The size of the seizure is exceptional and the danger of the these weapons in the wrong hands cannot be overestimated."
The seizure comes in the context of falling gun crime in London which has seen shootings drop 40% since 2012.
Met Police commissioner Sir Bernard Hogan Howe's focus on 'total policing' has seen criminals target legal loopholes to use guns in crime.
Under the terms of the 1968 Firearms Act, a gun is exempt from a handgun ban if it is "antique" or has qualities which make it a curiosity or an ornament.The Evening Standard reported a police officer who said he had been quoted the Act by a teenager he had collared.
The National Ballistics Intelligence Service called for the law to be tightened. Spokesman Clive Robinson said: "Our concern is that at the moment you are entitled to walk down the street with an antique firearm capable of firing real bullets.
"Criminals are finding it difficult to acquire modern weapons so they are having to find alternative sources of supply such as antique weapons.
"We are finding criminals with a knowledge of the law. They recognise that they can carry these weapons with little or no risk of jail."